Suzuki unveils strategy to capture electric cars – AVEM
Suzuki is one of the few automakers that has not yet launched a 100% electric car. Realizing this weakness, he has just presented his strategy to catch up in this area. The growth strategy for 2030, which Suzuki intends to implement gradually. The Japanese manufacturer intends to proceed in stages with different objectives depending on its main markets: Japan, India and Europe. Although Suzuki does not want to withdraw from the European market, on the contrary, it wants to strengthen its position there. For this, it has no choice but to resolutely commit to the electrification of its range. Thus, according to his predictions, electric cars will make up 80% of their sales in 2030, while in Japan this figure is only 20%.
5 electric cars are planned for Europe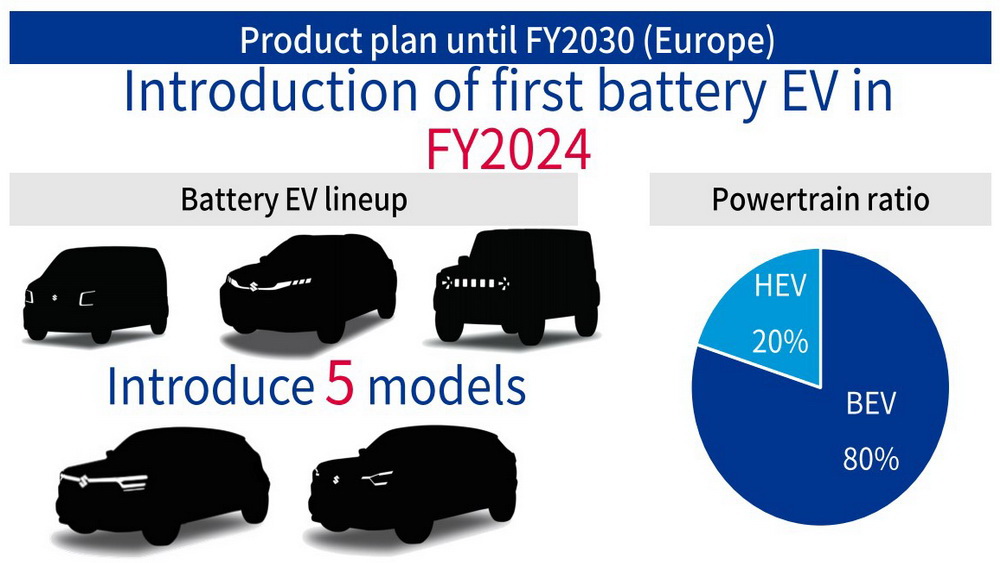 Despite the desire to electrify its range in Europe, the marketing of the first 100% electric Suzuki car will wait a little longer. This should happen only in 2025, but the manufacturer promises to launch 5 electric models by 2030. It belongs to both the B segment and the SUV market. The brand says it wants to meet customer needs in this way, in full compliance with European standards. The silhouettes of the vehicles he showed during his presentation give some clues about the nature of these vehicles. The first would have to be the compact SUV heralded by the eVX concept that the manufacturer has just launched in India. There is also a small Japanese kei-car style city car as well as other off-road vehicles. Finally, we know the silhouette of Suzuki's small adventurer Jimny, and thus will have a 100% electric version.
Electric mini-cars will be launched in Japan
Japan should see the introduction of 100% electric mini commercial vehicles this year. Suzuki then plans to sell 6 electric cars, an SUV and a kei-car there by 2030. However, we found that sales targets for its electric models were significantly lower than in Europe. In Japan, the brand also plans to introduce a range with new hybrid engines in the compact car market. In the archipelago, Suzuki will also develop a wide range of alternative electric mobility to accompany the changes in society. Vehicles such as Kupo, a mode of transport for seniors without a driver's license. There's also the Mobile Mover, a versatile robotic cart. These new electric mobility vehicles promote sustainable mobility in Japan and respond to demographic changes in the country.
The eVX concept was introduced in India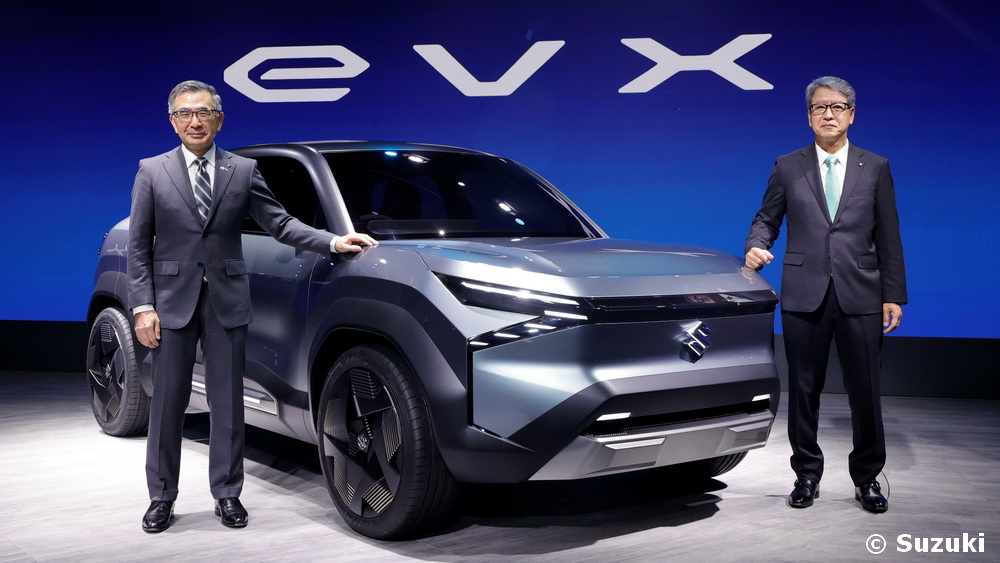 Although Suzuki does not yet produce mass-produced electric cars, it is nevertheless taking this path. The manufacturer has just unveiled the eVX concept, presenting its first 100% electric vehicle. Initial presentation at the Auto Expo in New Delhi, India. The country that is the first market for the brand. However, the resulting SUV of the eVX will not only be India-specific but will also be distributed globally. The production model will be based on a new platform developed in cooperation with Toyota. It will combine the innovations of the latest generations of electric cars with Suzuki's SUV know-how. In this area, the brand is a pioneer, especially with the Vitara, which was released 30 years ago. It intends to use its 50 years of 4×4 experience by applying this know-how to electric vehicles.
Towards carbon neutrality, but in stages
Suzuki's 2030 strategy is part of its long-term goal of moving towards carbon neutrality. A goal that each government intends to achieve pragmatically in phases according to a set target date. So, for Europe and Japan, it will try to achieve it in 2050, and for India in 2070, it will bet primarily on biogas. If the brand is going to take the time to achieve carbon neutrality, it is still planning significant investments. It plans to allocate about 32 billion euros to it by 2030. More than 14 billion euros of this amount will be spent on research and development, especially in the field of electrification and biogas. The rest will mainly concern investments in facilities, especially in the construction of a battery plant.