Kenavo Brest (goodbye Brest)!
Brest is an amazing city. There was no need to take a boat to constantly slap against the icy wind gusts in the almost constant rain.
The city surrounding Penfeld, its river, is a mixture of medieval buildings (castle, walls, Tangui tower) and brutal concrete architecture – the city had to be rebuilt quickly after the war, with very fast, perpendicular intersecting avenues and buildings arranged like "soviets". From time to time, a patch of blue sky and a slanting sunbeam manage to pierce the sea of ​​clouds that illuminate the streets. We discover that the port suddenly has a certain charm. The huge old industrial buildings that border it have been restored for some and dedicated to recreation, culture, cinema, climbing and of course art. Here artists have great space to express themselves.

"Les Capucins", where impressive industrial machines are still present, go hand in hand with the Emperor's boat, start-ups, people go on skates or take their children for a walk (in the heat).
Coming to the presentation of Bacon/Ernest, we took the opportunity to make a short visit in Brest to two places dedicated to contemporary art.
Comedy

This year's exhibition is dedicated to ten female street artists.
Starting late Miss Tic, French pioneer with his work: " Cheating: the desire to play and be played ". She influenced many young women who, thanks to them, were able to forcefully express themselves on the street.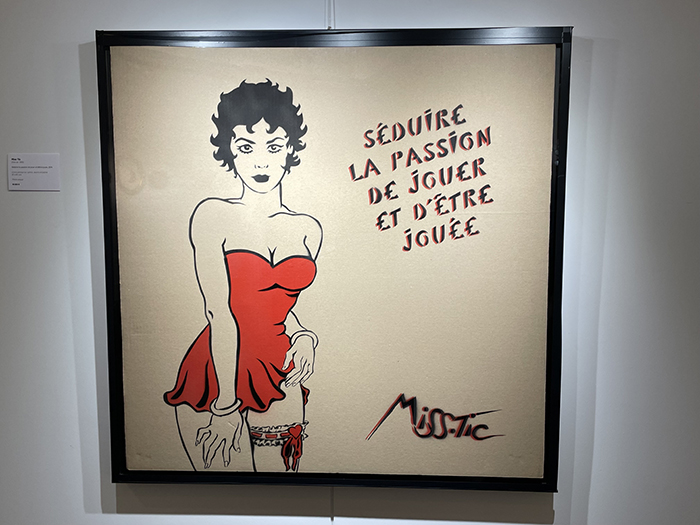 Strange texts and aphorisms small fish owes him something. The sentences he pastes on walls or everyday objects (plates, old photographs, clocks, newspapers) are taken from his notebooks: " No subject is preconceived, I write and draw what touches me: whether they are personal, romantic, political, angry, light or faithful, it doesn't matter at the beginning. » There is a lot of freedom, humor and intelligence in his work.
Other interesting discoveries: Foufounart Making beautiful vulvas (in pottery) with framed pearls, Mrs. K., at full speed and in front of everyone, tagging his name and the number 156 (Why 156?), raku busts on the streets. Melanie Bourgetlarge paintings that mix figurative and abstract Sky Laovery graphic abstraction Mrs. MCaroline Derveaux colored walls (multi-colored) and those Julia Form (large formats referring to the female form) and finally hyperrealistic sculptures Stephanie Kilgast. Each of them deserves a longer development, but you can easily find them on the Internet (they are all already known).
Some ceramic works by Foufounart ©AA
Authenticity: works by these ten artists (and others) are for sale (at fairly reasonable prices).
The magnificent exhibition space Le Comoedia ©AA

La Passerelle, center for contemporary art

Another location, a 4,000 m² former industrial site in the center of Brest. Open to current creativity, it hosts several exhibitions throughout the year, as well as performances (on Saturdays). Outside the institutions, La Passerelle was created by a group of artists who wanted to show ongoing creativity in spaces where the greatest artistic freedom is possible.
Two very different exhibitions were going on:
"Another Square Without a Street" by Rafael Domenech, a Cuban who lives in Miami and is passionate about relational aesthetics.
Accepting the invitation, he sought a dialogue yet to be defined. During walks in the city, remembered for the abundance of messages in the neighborhood of Saint-Martin, where the Passerelle is located, he tried to establish a dialogue between these forms associated with the street and the books he collected. With paper totems, murals, and cut books, the exhibition consists of several chapters and aims to share an experience that touches on both intimate and social themes.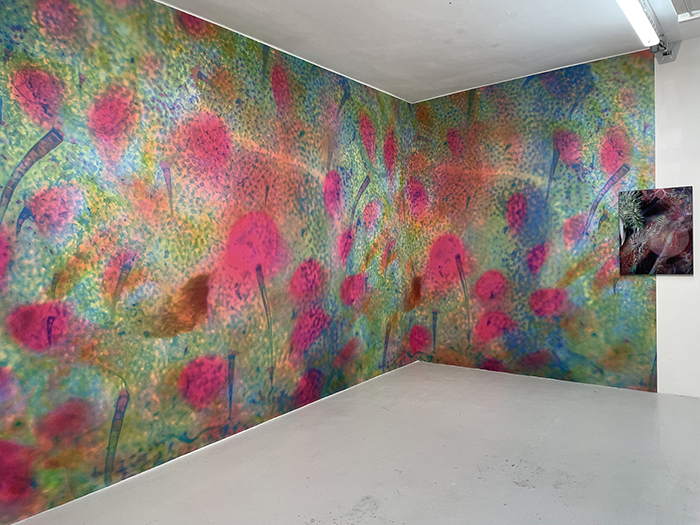 Another exciting exhibition (as part of the France-Portugal 2022 season)
Storm Chasers by Paulo Arraiano, Rebecca Brueder, Josèfa Ntjam, Pedro Valdez Cardoso (exhibition curator: Alice Bonnot)
This exhibit alerts us to the thousands of tons of oil carried by giant ships off the coast of Wessant in Brittany, where "the stormy currents of the Atlantic Ocean meet the currents of the English Channel – a place known to sailors as the busiest sea route. To prevent disasters like the Amoco Cadiz from happening again, Storm Chasers are brave sailors who navigate the turbulent waters of the ocean to prevent human and environmental disasters.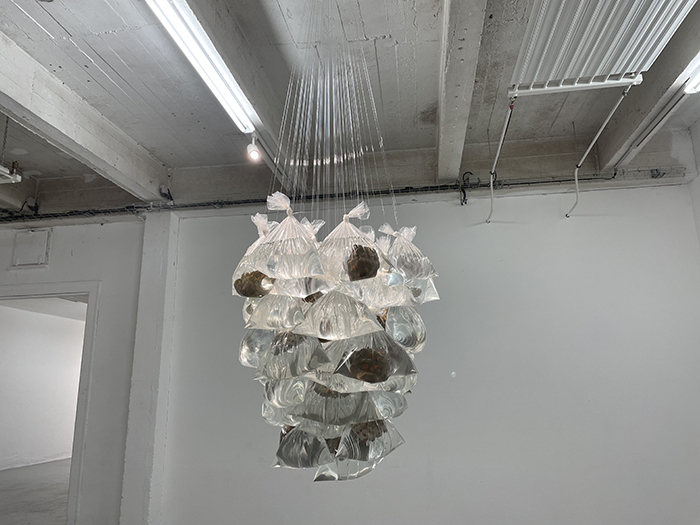 La Passerelle, another great venue for contemporary art in Brest ©AA
All photos of the article by DR Alain Amiel