Lamborghini Urus Performante 2023 test drive
Concept Lamborghini Urus Performante
2018 was the year that the Lamborghini Urus was introduced… or rather, the year that the Lamborghini Urus took a big leap. And not only because the Sant'Agata Bolognese SUV has never suffered from shyness or false modesty. And because it boldly took its place in the market by creating a new segment: the super SUV segment.
A segment where it had a monopoly for a while, but now it has to compete with Aston Martin DBX and company. Ferrari Purosangue. If it were up to us, we'd add the Porsche Cayenne Coupe Turbo GT to that list, but a Lamborghini spokesperson rightly told us, "Porsche makes sports cars, we make super sports cars."
To welcome this competition in the ring with open arms, the Lamborghini Urus has been slightly modified. The power of the 4-liter twin-turbo V8 increased by 16 hp, from 650 to 666 hp, the "evil" number reached 6000 rpm. The maximum torque remained at 850 Nm between 2300 and 4500 rpm. Thus, the optimized engine is located under the hood of two models: Urus S and Urus Performante.
"Porsche makes sports cars, we make super sports cars," says Lamborghini.
The Urus S is the more civilized sibling of the family. It's a bit more reserved in showing off its capabilities, but a bit slower than the Urus Performante, which unashamedly flaunts its muscles. With the latter, this translates to 0-100 km/h in 3.3 seconds and a top speed of 306 km/h. Lamborghini Urus S accelerates in 3.5 seconds and 305 km/h, respectively.
To give you an idea of ​​the level of performance this represents Huracan Tecnica It reaches 100 km/h in 3.2 seconds and reaches a top speed of 325 km/h. But without family in the back seat.
The Lamborghini Urus Performante gets a carbon wash. Starting with the hood, which is painted in standard body color, but partially bare as an option. The same applies to the carbon roof for an additional fee, which is highly recommended for those who want to show off this light and expensive material in public.
In addition, the new front bumper with splitter and lower rear bumper with diffuser are made of the "same metal", not to mention the rear spoiler, which is a nod to the Aventador SVJ, which offers 38% more support at the rear.
Finally, carbon accent pieces are not uncommon, such as wing extensions that justify their presence with a 16 mm wider track and amazing wheels: 22-inch wheels with titanium nipples fitted with 285/40 front and 325/35 as standard. rear wheels.
Surprisingly, the list of options includes not only 23-inch wheels, but also Pirelli P Zero Trofeo R tires, which means that the Urus Performante is the first SUV to be equipped with semi-finished products specially designed for this high weight. They promise better performance not only on dry roads and high temperatures, but also on wet roads at low temperatures.
Behavior Lamborghini Urus Performante
The question we have to answer during this winter presentation is: What is the main difference between the Lamborghini Urus S and the Urus Performante? We cannot answer this question right away, because the Performante version also shows its most comfortable side in Strada driving mode.
Perfect for morning rush hour queues in and around Copenhagen. We keep it as civil as possible so that the Danish capital doesn't suddenly wake up. This is no small feat, as the sound from the titanium Akrapovic exhaust is quite bold, even from a distance.
We switch to sports mode. The effect of this intervention is felt immediately. The twin-turbo V8 engine responds more quickly to the throttle, the transmission shifts from gear to drive more quickly, and the rear-wheel steering makes the rear end more nimble at low speeds. This results in more direct steering behavior, further accentuated by active torque distribution in the rear differential.
To achieve a more direct connection with the car, Lamborghini opted for sportier suspension settings for the Performante: new, stiffer springs, special shock absorbers and steel suspension with active stabilizers that minimize body roll. .
Rally mode isn't the magic feature that turns this behemoth into a Lancia Delta HF Integrale, but drifting becomes child's play.
Moreover, this last point is not an easy task. The Performante's revised suspension may lower the Lamborghini Urus by 20mm, and copious use of carbon fiber helps reduce its weight by 47kg, but that doesn't change the fact that this SUV remains a behemoth, especially for a super sports car. temperament, tall legs, weight 2150 kg. With a weight-to-power ratio of 3.3 kg/ag, knowing it's also the best in its class (reduced, of course), it doesn't change much.
Still, it's as efficient as ever, as evidenced by the activation of Corsa mode, which tightens the suspension and deploys the electrically controlled stabilizers all the way, absorbing and neutralizing body motion admirably. The mode that optimizes the sound of the engine in a sporty way is, of course, not insignificant in Lamborghini.
And then there's Rally mode, where the ESP is reduced and most of the power is sent back to the right side of the car. The rear, in fact, makes the impressive Urus Performante particularly playful. Not that Rally mode has some kind of magical feature that transforms the behemoth into a Lancia Delta HF Integrale, but oversteer is encouraged to such an extent that it's child's play to get this Lamborghini into a very entertaining drift.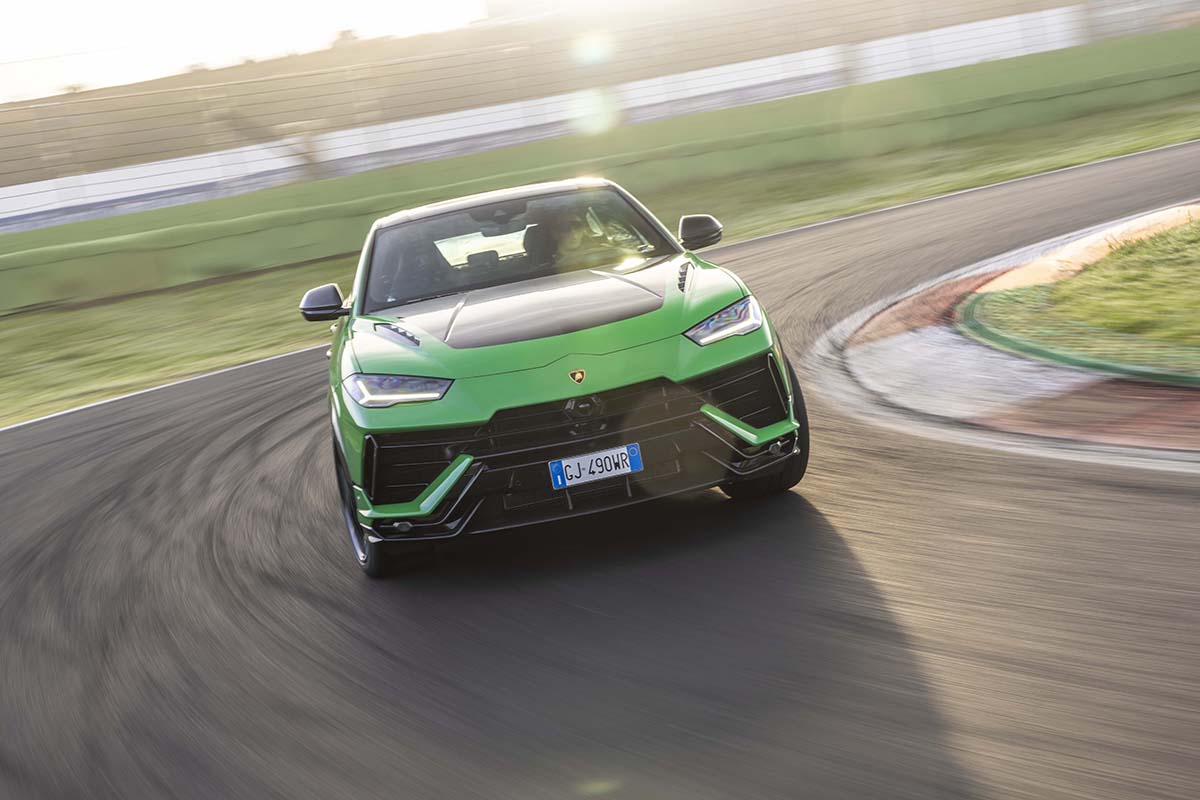 Judgment Lamborghini Urus Performante
Yes, even if we're among the drivers who prefer to take turns with our rear end inches from the asphalt, we have no problem admitting that the Lamborghini Urus Performante has good genes. And we don't mean Lamborghini to be a tractor manufacturer first. Absolutely!