Bayern 4th, Manchester City 2nd… the 5 best attacking trios in Europe this season
In the last ten years, Real Madrid's 'BBC' (Bale-Benzema-Cristiano) and Barcelona's 'MSN' (Messi-Suarez-Neymar) have emerged as the world's two most powerful attacking trios.
The players understood each other perfectly, tormented their opponents with their killer finish and razor-sharp movements. Unfortunately, the trio has since disbanded, allowing others to take center stage.
Today we take a look at five attacking trios who rocked Football City this season. The players listed below don't necessarily play together all the time, but they are the top three goal scorers for their respective teams. With that in mind, let's take a look at Europe's most successful attacking trio in the 2022-23 season.
Statistics: Transfermarkt
Special note: Top five domestic league and cup competitions are taken into account.
#5 Nkunku-Werner-Silva (RB Leipzig) — 33 goals
RB Leipzig's attacking trio of Christopher Nkunku, Timo Werner and Andre Silva have scored 33 goals this season.
French ace Nkunku was the undisputed star of the trio. In his 23 matches so far, Nkunku has scored 17 goals and provided 4 assists. 12 of his 17 goals came in 15 games in the Bundesliga.
Ex-Chelsea man Werner was also impressive in his former hunting ground. The German appeared in 16 games with 9 goals and 4 assists.
Portuguese striker Silva is the third member of the trio. He has struck a perfect balance between scoring and assisting this season, scoring 7 goals and setting up 7 in 23 games for Leipzig in all competitions.
#4 Musiala-Mane-Choupo-Moting (Bavaria) — 34 goals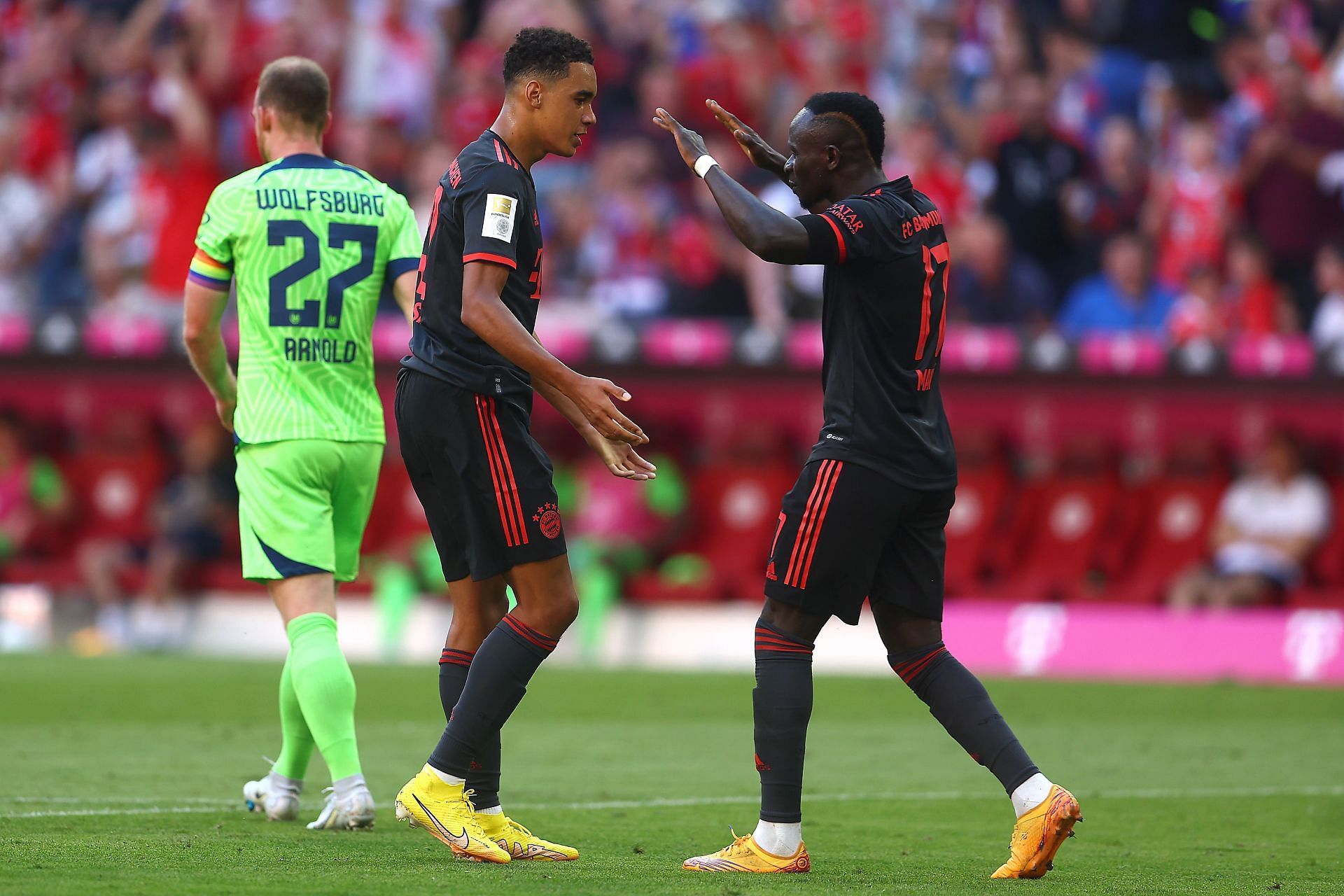 The German giant "Bayern" lost Robert Lewandowski to "Barcelona" last summer. However, even without one of their most prolific goalscorers, Bayern continued to score thanks to the attacking trio of Jamal Musiala, Sadio Mane and Eric Maxim Choupo-Moting.
Jamal Musiala has been a boon for the Bavarians this season with the German scoring and assisting for fun. The 19-year-old attacking midfielder played 22 games in all competitions for "Bayern" and recorded 12 goals and 10 assists.
Former Liverpool ace Mane may not have been able to match Lewandowski's output, but he has produced his fair share of impressive goals. Since the start of the season, Mane has scored 11 goals and provided 4 assists in 23 games in all competitions.
While Thomas Muller has struggled to make ends meet this season, Choupo-Moting has emerged as Bayern's third most effective striker. The former Paris Saint-Germain played 16 games this season, scoring 11 goals and 3 assists.
#3 Salah-Nunez-Firmino (Liverpool) — 36 goals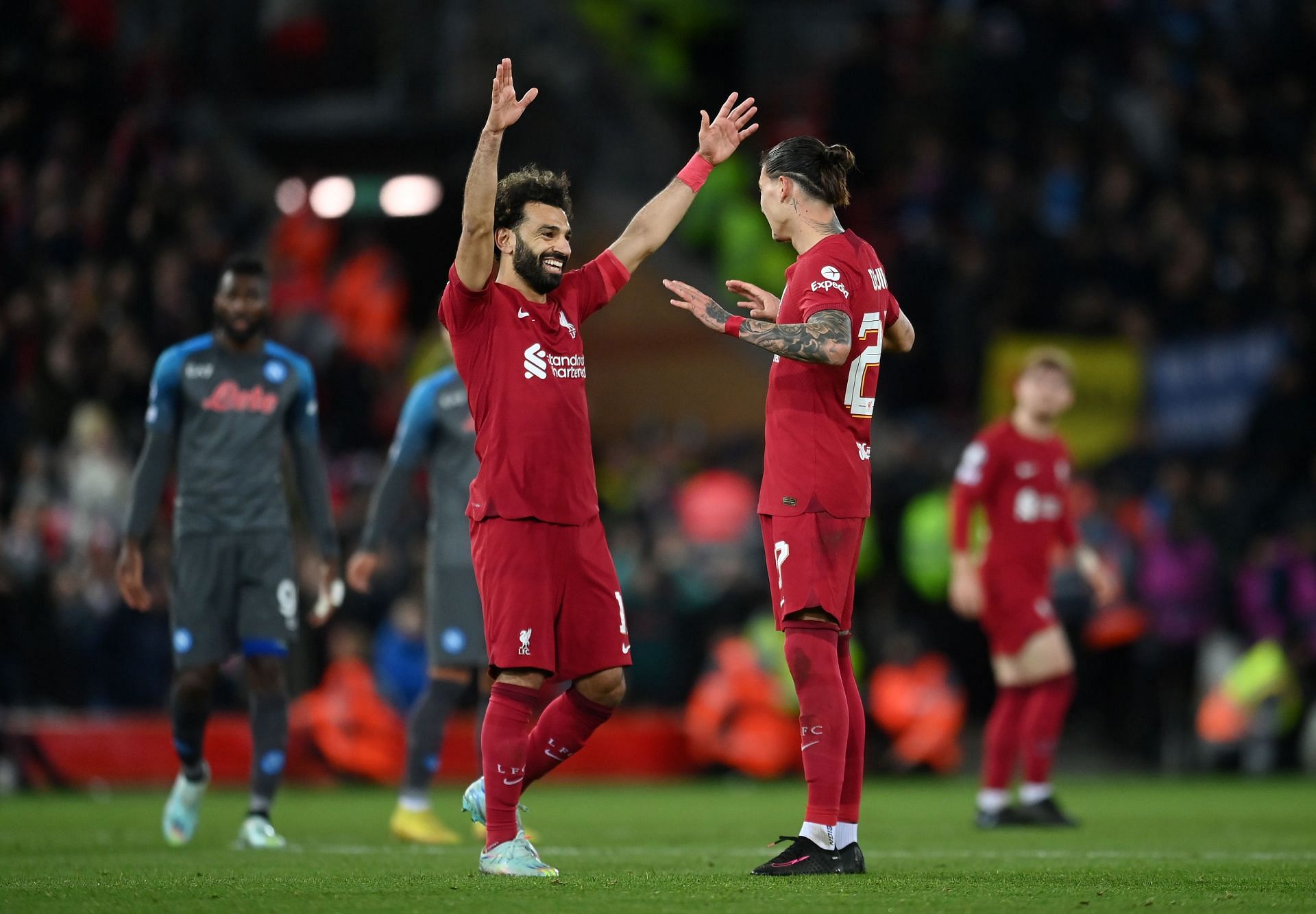 The trio of "Liverpool" Mohamed Salah, Darwin Nunez and Roberto Firmino scored 36 goals in the 2022-23 season and became one of the best in Europe.
Salah has been the most prolific member of the big three, scoring 17 goals in 26 games across all competitions. The Egyptian international, who won the Golden Boot and Playmaker Award of the Premier League last season, has scored 7 goals and provided 4 assists in 17 league games so far.
Salah also excelled in the Champions League, scoring seven goals and providing one assist in six games (joint with Mbappe) as the competition's top scorer.
New signing Nunez has come under heavy criticism for some of his failures, but his 10 goals in 23 appearances certainly deserves respect. Firmino is the third member of the trio, the Brazilian has scored 9 goals in 21 games.
#2 Haaland-Foden-Alvarez (Manchester City) — 44 goals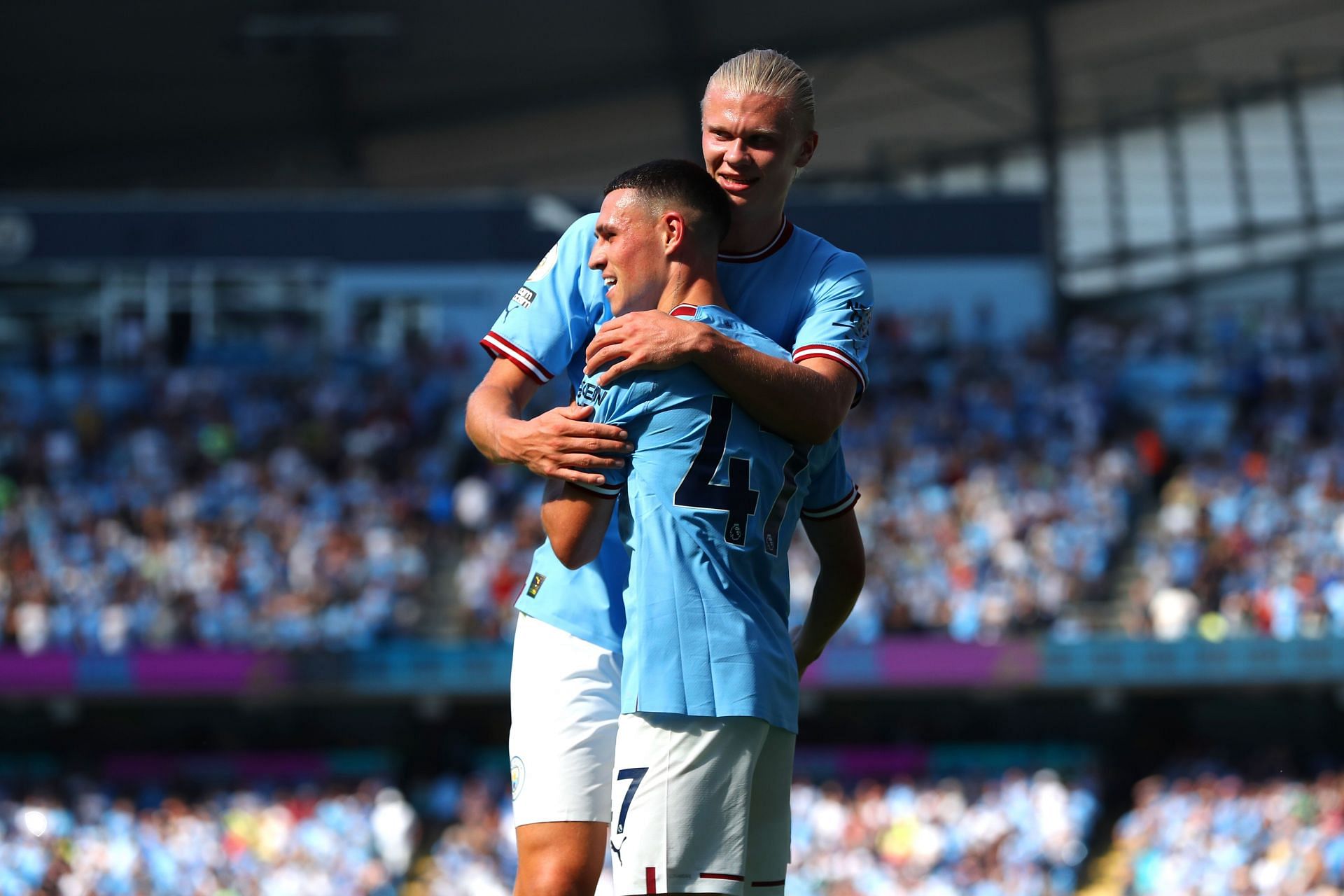 "Manchester City" currently has the most productive attacking trio in the English Premier League. The dynamic trio of Erling Haaland, Phil Foden and Julian Alvarez have scored a staggering 44 goals in all competitions this season.
After the signing of the season, Haaland scored 27 of 44 goals and became the group leader. The Norwegian shooter leads the "Golden Boots" competition of the Premier League with 21 goals in 16 games. He scored a further five goals in the Champions League (four games) and another in two EFL Cup games.
Foden also scored and assisted regularly in the 2022-23 season with 9 goals and 4 assists in 26 games. Finally, there is new world champion Alvarez, who has mostly played second fiddle to Haaland. The 22-year-old football player has so far played 23 games (10 starts), scored 8 goals and made two assists.
#1 Messi-Mbappe-Neymar (Paris Saint-Germain) — 48 goals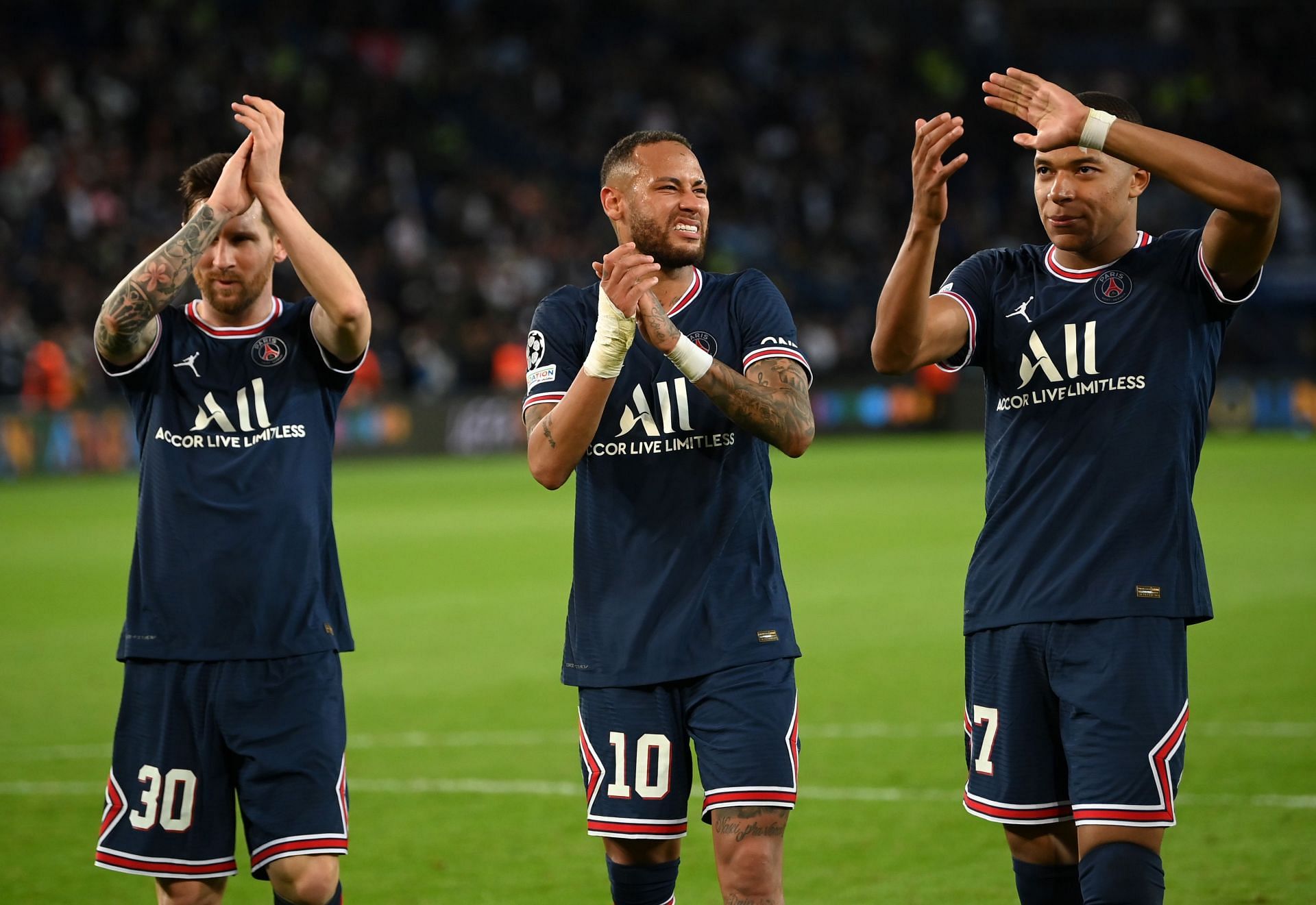 With Lionel Messi, Kylian Mbappe and Neymar in their ranks, Ligue 1 giants Paris Saint-Germain (PSG) have the most potent attacking trio in Europe. Trident has scored 48 goals this season, making PSG one of the strongest teams on the continent.
French superstar Mbappe became PSG's top scorer in the 2022-23 season. The former Monegasque has scored 20 goals and provided 2 assists in 22 games in all competitions. He is currently the top scorer in Ligue 1 with 13 strikes in 16 games and is also the top scorer in the Champions League (alongside Salah) with seven goals in six games.
Brazil's Neymar is second in all competitions with 15 goals and 13 assists in 22 games. He was particularly impressive in Ligue 1, scoring 11 times and setting up his teammates 10 times in 16 games.
Finally, there is seven-time Ballon d'Or winner Messi, who has played like a man this season. After guiding Argentina to the World Cup in December, Messi is trying to conquer it all with PSG. He has scored 13 times and provided 14 assists in 20 appearances in all competitions so far and shows no signs of stopping.
Advertising