How to use ChatGPT with Siri on iPhone?
OpenAI's ChatBot can be directly queried using the Siri voice assistant on iPhone via the Shortcuts app. Here's how.
ChatGPT is a powerful and interesting tool. The OpenAI chatbot can understand the meaning of words and phrases presented to it and suggest appropriate responses based on the context of the conversation. All use natural language like a human.
If ChatGPT can be installed locally on the server, this experience is reserved for the insider audience. For the general public, access to this tool can only be done from the official ChatGPT page on the OpenAI website. Since ChatGPT is a conversational bot that can understand natural language, it would be very interesting to be able to ask it out loud from a smartphone, for example.
There is a workaround that allows you to use ChatGPT through the Siri voice assistant on iOS. GPTChat with Siri, as it's called, uses Apple's Shortcuts app and requires the creation of an API key for GPT-3. How to use ChatGPT with Siri on iPhone.
1. Create your OpenAI account
If you haven't already, start by creating your account on OpenAI. To do this, go to https://beta.openai.com/signup and follow the instructions to create your account on the platform. After your account is created and verified, log in using your credentials.
2. Generate your API key for GPT-3
Once on the main page " Welcome to OpenAI », click your account icon in the upper right, and then select See API keys.
Then press the button Create a new secret key to generate a new key.
Then a pop-up should appear and show your key. Copy it and save it in a safe place, in a notebook, word processor, or somewhere else. You will need it later to complete the configuration of GPTChat with the Siri shortcut.
3. Install Apple's Shortcuts app
Download Apple's Shortcuts app if it isn't already installed on your iPhone. It is through this app that you will be able to access a shortcut that allows you to query ChatGPT using Siri.
4. Download GPTChat via Siri Shortcut
Open it on your iPhone Safari there to download GPTChat with Siri shortcut. Click the button in the window that opens on the screen Add this shortcut. Shortcut SiriGPT then it should be available in Apple's Shortcuts app.
5. Configure the shortcut
Now you need to configure the shortcut so that it can work with your OpenAI account. To do this, click on the shortcut options button represented by three small dots. Then find the block Textand replace the record ADD API KEY HERE there The GPT-3 API key was copied in step 2. Confirm the shortcut with your key by pressing the button okay upper right.
6. Specify the shortcut activation command
By the way, you can completely use the SiriGPT shortcut by launching it directly from the application. Shortcuts. It is possible to use Siri by speaking directly to it, but the results are often approximate. Unless you change the shortcut to something Apple's voice assistant will unambiguously understand. But then you need to check certain permissions, especially if the shortcut can access microphone, audio, which is not really practical. So, it's better to set up a custom command that will allow you to launch the shortcut without opening Shortcuts or struggling with Siri's pronunciation.
Open to do this Parameters Go to menu for iOS Accessibilitylater in the section To touchscroll through the options and select Touch the back of the device.
Then click Tap 2 timesscroll through all the displayed options until you reach the section dedicated to Shortcutsand select SiriGPT.
Now double-tap the back of the iPhone will launch SiriGPT and you'll have the option to directly speak out loud to ChatGPT.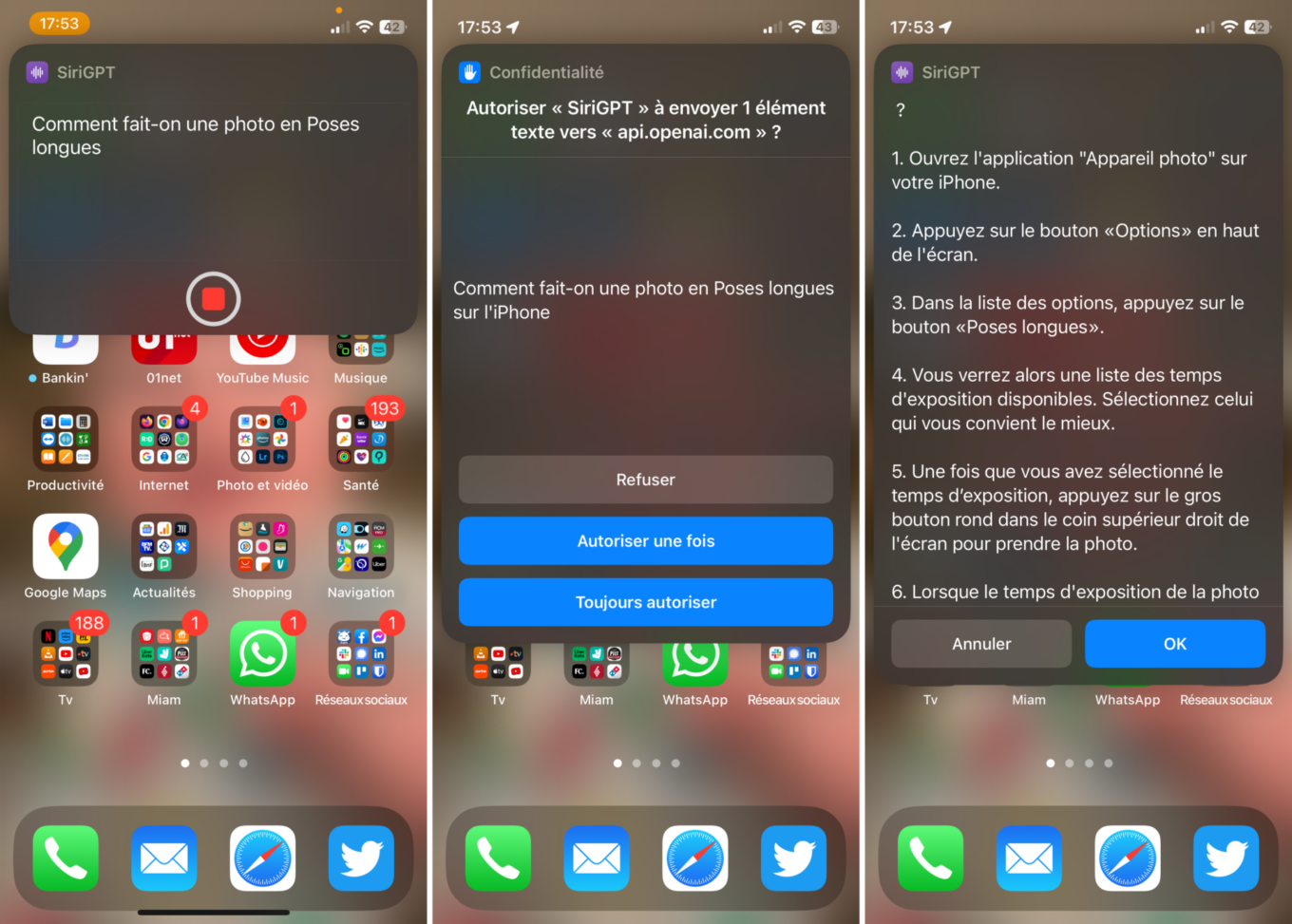 Note that at least the first time you use it, you need to confirm certain permissions, especially to give access to the iPhone's microphone.