A breath of fresh air for the H du Siege art center
If the l'H gallery of the seat exists thanks to funding such as DRAC, the city of Valenciennes and the Hauts-de-France region, it is undoubtedly the artists who have kept it alive for so long. a team of workers (visual artist Gye Hoon Park) completely dedicated to this place.
(The artist's son was there to play guitar parts)
The new president of the Seat H gallery, Henri Duhamel, associate professor of Plastic Arts at the University of Valenciennes, who replaced the well-deserved retirement of Philippe Bétrancourt, spoke in front of a hall this Friday, January 6. A very large assembly of students, representatives of the structures of Valenciennes, as well as regular employees of the gallery, are simply attracted to what this unusual place, located in a former carpentry, has to offer: a sensitive work, but a delicate balance between physically present, plastic materiality and the absence of emotions . But above all, a space that has its own place to invest with the work as much as the audience.
A few months ago, an artist in residence named Gye Hoon Park from South Korea took up residence in a gallery studio. He opened his business this evening with modesty. Gallery director Pascal Wei chose the artist to read a simple, transparent presentation text, like a view of the sky: " The unknown space became a happy space ".
He also recounts a moment of poetry when he sees a ray of light alone in an empty gallery. This image is a bit of a metaphor for what has been happening in the gallery for 35 years, an osmosis, slowly created between the artist and the space that welcomes him, then expanding into the city, then the territory.
The exhibition is called "7 Breathing Planes" – 电影时间7개이스
Thus, the gallery became a cinema set, a script, large sheets of paper stacked on top of each other, successive frames moving according to the movement of the audience, open to interpretation, a special film for each.
The viewer can thus walk between the very thick sheets of paper, on which the artist works with a repetitive gesture, almost losing sight of them. He opens the paper and forces us to turn the pages like we can read in a book. With a rich story of many interpretations. The paint is apparently applied with a light gesture. Because it is only a gesture. Gye Hoon Park's history is about history with the letter H, but also the story of his daily life. A hard story to hear. But we have to keep it in mind and above all else keep passing. Don't forget.
This emotion was felt in the gallery at the beginning of 2023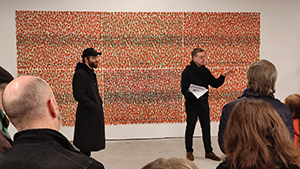 According to Pascal Peses, his work is an emphatic observation of the present, the past, and the future. The latter could not help but call the gallery's association with Valenciennes' ESAD (high school of art and design), the threat of closure, a tragedy for culture.
The association chose to sweeten the moment with a buffet prepared by CAP students from the Saint Jean Baptiste de la Salle institution. This institution has also been a partner of the gallery for twenty years and hundreds of students who have been able to discover the variety of artists represented.
The artist Maturin Van Heeghe was also present to create a "diversion" with his work exhibited in the Côté cour gallery opposite the gallery. This artist, who recently graduated from Rubaix, "explores the relationship between art and craft, questions notions of territory and memory, relies on the sharing of different skills. ". These images and installations are to be found near the small gallery.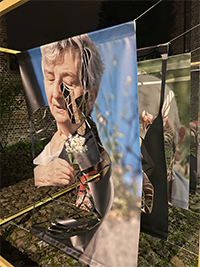 German artist Henrike Stahl also presented his photo installation "Intergenerational Project around Remembrance and Collective Memory", which he produced together with local residents. This project is available Delta device, a program implemented by two art centers located in the same area: L'H du Siege in Valenciennes and CRP / Hauts-de-France Regional Center of Photography in Douchy-les-Mines. FLAC, the local alternative culture federation, is also linked to this file with support noted by DRAC Hauts-de-France.
Other works can also be discovered at 2 other locations: from March 4th to April 8th at CRP/, Place des Nations, Douchy-les-Mines and from April 15th to June 3rd at La Barjo, 261 rue Jean Jaurès, Onnaing
We hope that the year for the gallery will continue as peacefully as this beautiful evening. A blend of tradition and innovation, a new beginning for longevity, equal to and beyond what he knew before. Pascal Vey could not help but call the gallery's association with Valenciennes' ESAD (high school of art and design), the threat of closure, a tragedy for culture in his opinion.
Exhibitions by Maturin Van Heeghe and Gye Hoon Park Visible from January 7 to March 11, 2023. Project Delta is on view from January 6 to February 28 at L'H du Siege, 15 rue de l'Hôpital de Siege, Valenciennes: https://hdusiege.org/
Jane Huvelle