The Lenovo Yoga Book 9i is the dual-screen laptop of your dreams
Although the first dual-touch notebook – the ASUS Flipbook – was introduced at CeBIT more than 10 years ago, the technology is now gaining popularity. This is exemplified by the steady stream of dual touchscreen laptops released by major laptop manufacturers. While ASUS has been quite prolific in this market with devices such as the ROG Zephyrus Duo, ZenBook Pro Duo and ZenBook Duo in a row, a growing number of competitors are also showing interest in the category. Recent entrants into this niche market include HP and Lenovo, which recently launched machines such as the Omen X2S and ThinkBook Plus Gen 2, respectively. Looks like Lenovo is now looking to expand its footprint in the dual-touch laptop market.
Lenovo was one of the first companies to produce an attractive 2-in-1 laptop and is no stranger to ultraportables, but the all-new Lenovo Yoga Book 9i takes things up a notch. Announced at CES 2023, The Yoga Book 9i is a full-size, dual-screen OLED laptop, and it's beautiful..
The all-new Yoga Book 9 builds on the success of its predecessor in every sense of the word. At first glance, it looks like Microsoft's unreleased 2019 Surface Neo, only better. First, let's talk about the specs and those two 13.3-inch screens, then we'll share some details about the keyboard, stand, and stylus that complete the experience and make it a versatile powerhouse.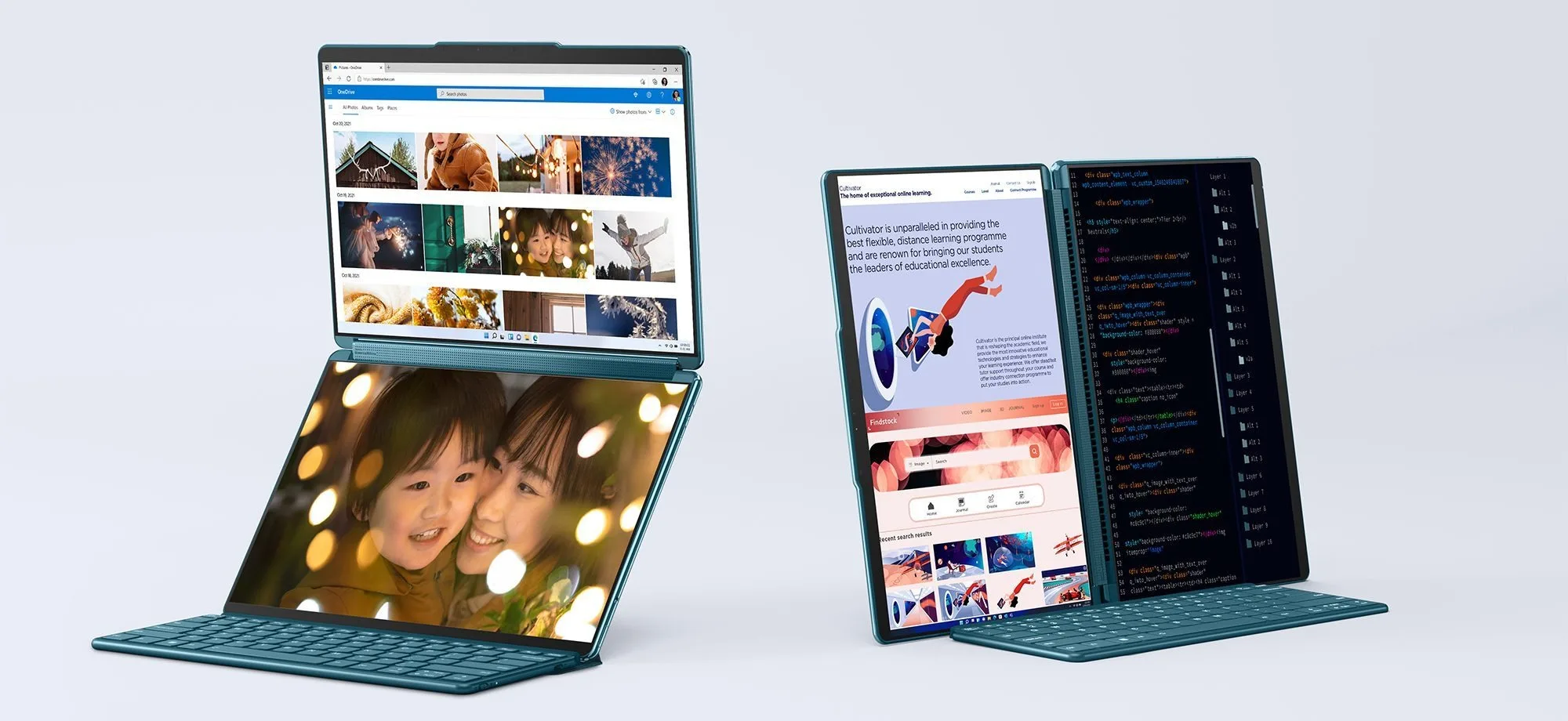 Lenovo's new Yoga Book 9 looks like a traditional 2-in-1 clamshell laptop, but it's sleek, stylish and stylish. features dual 13.3-inch 2.8K OLED Puresight displays. Instead of a regular keyboard, it has two screens. Both displays have 100% DCI-P3 color accuracy, Dolby Vision HDR, and in the middle you'll find a 360-degree rotating Bowers & Wilkins soundbar with Dolby Atmos surround sound.
Inside, you will enjoy Intel's all-new 13th Gen Core i7-U15 processor, the PC runs Windows 11 (Home or Pro depending on customer preference) provides dual-screen versatility, endless entertainment and versatile functions. You can use it like a regular laptop, take advantage of tent mode, or flip it sideways for dual-screen portrait or landscape mode.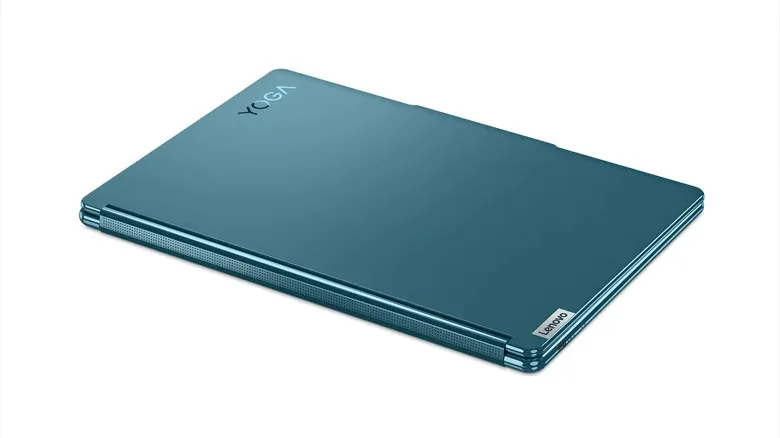 The Lenovo Yoga Book 9i supports up to 16GB of LPDDR5X RAM with up to 1TB of internal storage via PCIe Gen4 SSDs. Intel's Iris X GPU handles the graphics, and the 80 WHr battery claims support for up to 10 hours of dual-screen mode and up to 14 hours of single-screen video playback. Connectivity options include three USB-C ports, Wi-Fi 6E and Bluetooth 5.2.
The Yoga Book 9i includes a physical keyboard for those who don't want to touch the touchscreen, and the magnets that hold it in place are strong and secure. The origami-style case folds up into a laptop stand for the built-in keyboard and stylus. This is pretty cool.
It's worth noting that you can place the physical keyboard on top of the screen, which only takes up half the screen and gives you plenty of room for multitasking. You'll be able to move it to the top half of the screen, which turns the bottom half into a trackpad with buttons and haptic feedback for a confident experience. Yes, you can change the location of the on-screen keyboard in the same way.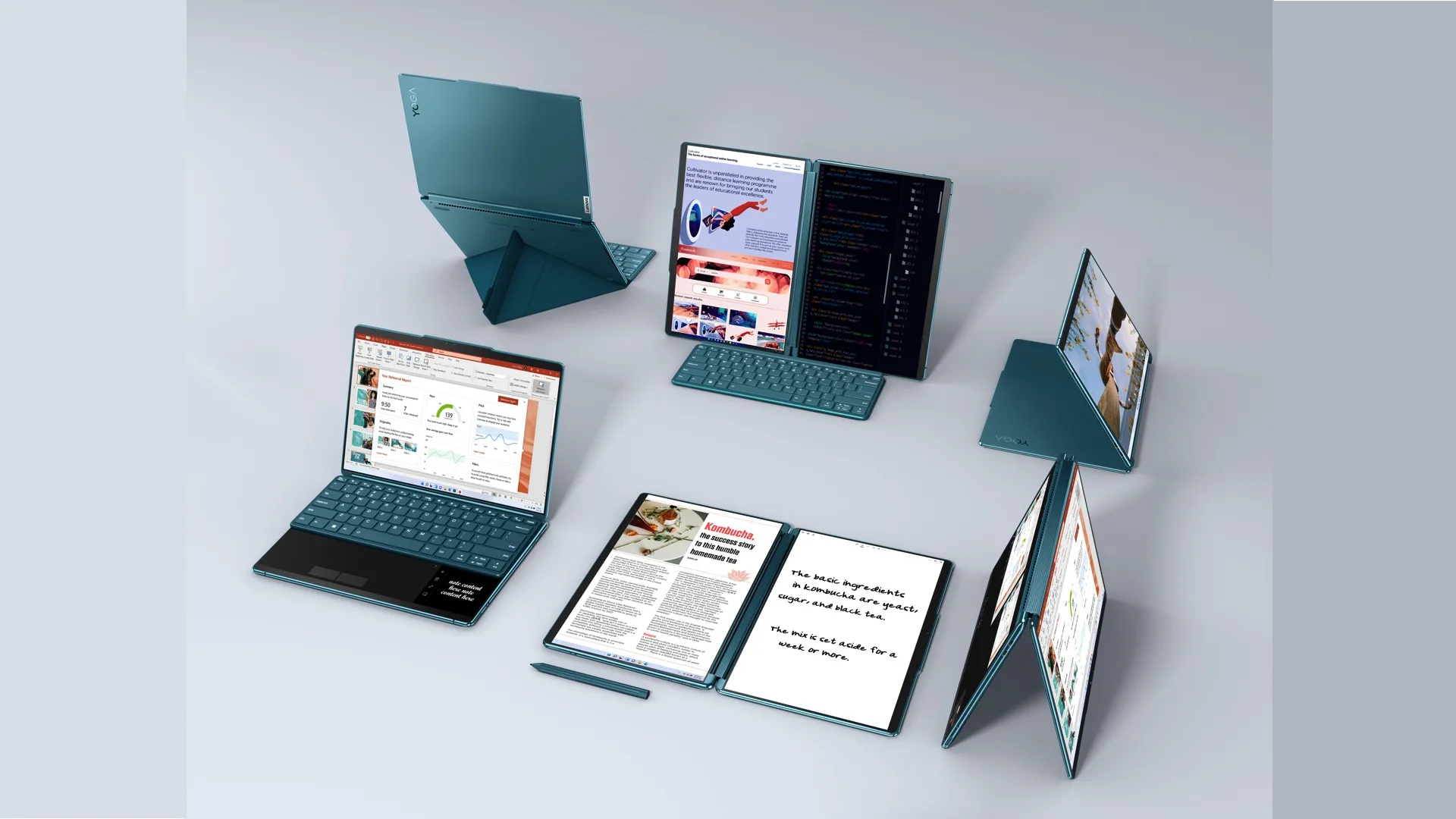 An elegant device
The Yoga Book 9i is a thin, sleek and light device that gives you the full laptop experience and easy multitasking for on-the-go, while being more versatile than a traditional clamshell form factor. The ability to work on one screen and watch video on the other, or switch to dual-screen portrait mode for browsing the web and scrolling through Twitter, makes this a unique device that's bound to get noticed.
At first I thought it was a concept, but unlike the Surface Neo, it's something you can actually buy.
the Lenovo Yoga Book 9i (13-inch) will be available in July 2023 from 2,299 euros.