Basquiat, multidisciplinary artist, herald of violence against African-American communities
Exhibition The Complete Volume: Basquiat and Music currently on display at the Montreal Museum of Fine Arts, shows that Jean-Michel Basquiat's work, usually associated with painting, also addresses several other media: music – the main subject of this exhibition – literature, comic strips, film and… animation, his work is less well known. aspect.
Basquiat was born in New York in 1960 to a Haitian father and a Puerto Rican mother. In the late 1970s, he collaborated with Al Diaz under the pseudonym SAMO to produce enigmatic graffiti. The artist quickly became known in the New York art world (in particular, he became friends with Andy Warhol and frequented Madonna). He then produced solo works and gained increasing international fame until his death in 1988.
During the Black Lives Matter movement, the work of Jean-Michel Basquiat is more relevant than ever. It highlights racial inequalities and the lack of representation of racialized people in the media, as well as the violence African-Americans experience.
This is what I propose to explore in this article. A PhD student in literature, performance and screen art, my research is particularly focused on the interplay between animated film and the visual arts (comics, painting) and also American cartoons.
Love/hate for the cartoon
As a child, Basquiat dreamed of becoming an animator for cartoons. Since he became an artist, the television was always on in his studio, regularly showing cartoons. These performances and films were a great source of inspiration for the artist. Indeed, he incorporated several references to animation or even comic strips in his paintings.
One of these works, which can be seen at the MMFA exhibition, is called Toxic (1984). The painting depicts a black man with his arms in the air against a collage background that mentions several names of short cartoons made between 1938 and 1948.
The character is actually Basquiat's friend, artist Torric "Poisonous" Ablack. Therefore, the title of the table will refer to it. However, knowing Basquiat's play with words and their meanings, "Toxic" may actually represent his connection to the cartoons mentioned behind the character.
Can we say it was considered toxic by Jean-Michel Basquiat, despite his admiration for these films? In fact, I believe that this painting creates a certain dichotomy: the artist loves cartoons and hates them at the same time. According to the dictionary Little Robert, the word "toxic" can mean "harmful" (undercover). Therefore, the term "hidden" implies that the toxic element (in this case, the cartoon) is dangerous without us noticing.
cartoon violence
Cartoons are often associated with childhood, pleasure, eccentricity.
It is a universe where anything is possible: in it Gorilla My Dreams, a 1948 film directed by Robert McKimson, for example, the rabbit Bugs Bunny talks, disguises as a baby, and imitates a monkey. Rather innocent. However, the cartoon can also subtly represent the worst of humanity in its incredible violence: characters chase each other, chase each other, shoot each other, cut each other, kill each other, then start again .
So, in Porky's Rabbit Hunt1938 film by Ben Hardaway and quoted Toxic, Porky's character is injured by dynamite, abused in a hospital bed, and tries to shoot a rabbit. Consuming cartoons on television every day, Basquiat knows that they are a reflection of American XX society.e century
This is an interpretation supported by the title of another painting that also uses iconography from animation or comics: Television and animal cruelty (1983). This cruelty is also condemned and repeated Opera (1985) shows a Popeye being shot over the head with the words "senseless violence". Panel of Experts (1982), where we see matchstick men shooting each other with giant revolvers.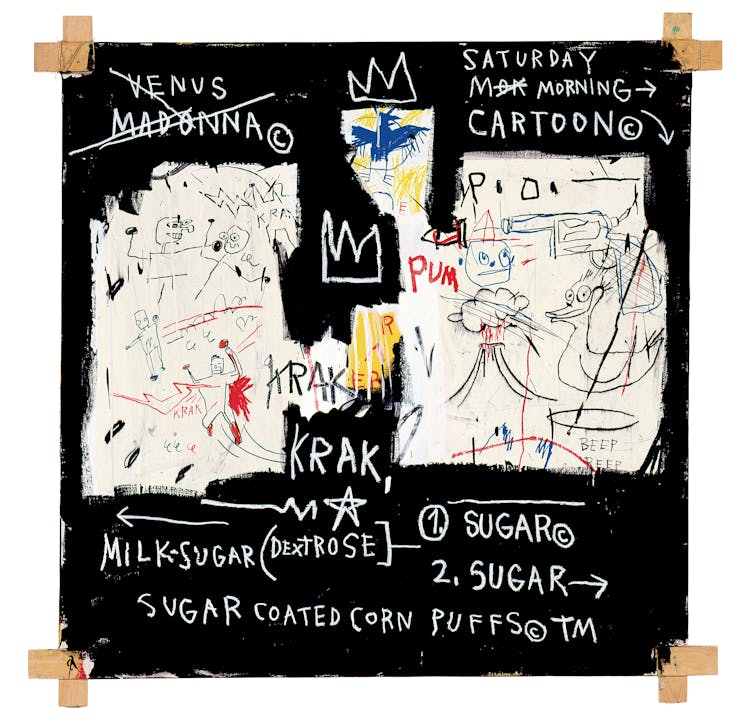 This violence that Basquiat condemns is so present in the cartoon that it has become commonplace to a certain point, as we see in the newscasts on television (which he probably watched while he was painting).
Condemn racial stereotypes
These cartoons are also violent because they often perpetuate racial stereotypes (not to mention many stereotypes related to sexual orientation, gender, sexuality, body image, etc.).
Movie Sick PorkyIt was taken by Bob Clampett in 1940, which is also mentioned Toxic, features a scene in which an elevator valet crudely and horribly parodies a black character. At work Untitled (All Stars) (1983), Basquiat quotes from the film ChineseBy Max Fleischer, painted in 1920, here we find a very caricatured character of Asian origin and Coco the clown, who wears make-up to look like him.
Basquiat therefore tries to condemn the stereotypical and unfair view of the world, where racist people are portrayed unrealistically, by placing elements of animation in his compositions. Basquiat also said that if he wasn't an artist, he would be a filmmaker and tell stories where black people are represented as human beings, no longer in a negative way.
Title of the table Toxic will have several meanings. It defines both the main subject (Torrik "Poisonous" Ablack) and its connection to popular culture and, in this case, animation.
I forgot to mention the character Toxic arms in the air and hands red. Could this toxic relationship get her hands dirty? Specifically, is the character now portrayed as a criminal because the cartoon constantly portrays black people in a derogatory manner? His position really shows that he is in prison.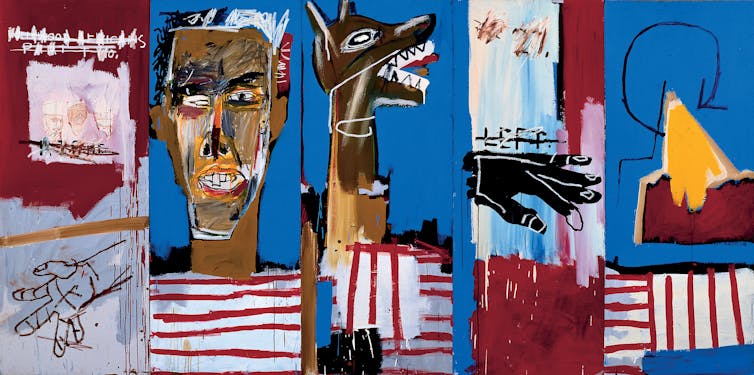 This assumption is likely because Basquiat produced several works that condemned police brutality against African Americans, including The Death of Michael Stewart (Defacement) (1983).
Basquiat died prematurely in 1988 at the age of 27. Other artists from the black community, such as Montreal artists Kezna Dalz aka Teenadult, Manuel Mathieu, and animation director Martine Chartrand, have fought in their own way and continue to fight for more visibility. monk