Lenovo Legion 5 Laptop Review
What if the Lenovo Legion 5i was your next favorite gaming PC? Anyway, it has potential.
The world of gaming PCs is often monopolized by 2/3 different brands, with a few marginal competitors that have never been able to break through. Gradually, Lenovo and its Legion brand are getting noticed. With Legion 5i Gen 7, we come across perhaps his best effort yet.
Lenovo Legion 5i Gen 7 Specifications
| | |
| --- | --- |
| screen size | 15.6 inches |
| Display type | IPS-LCD |
| Screen definition | 2560 x 1440 pixels |
| Refresh rate | 165 Hz |
| Processor | Intel Core i7-12700H |
| Graphics card | Nvidia GeForce RTX 3060 |
| tame | 16 GB DDR5-4800 |
| Storage | 1 TB |
| connectors | 1 Thunderbolt 4, 2 USB C 3.2 Gen 2, 3 USB A 3.2, 1 Ethernet, 1 HDMI 2.1, 1 combo jack |
| Dimensions | 2.41cm x 35.9cm x 26.24cm |
| Weight | 2.4 kg |
Discover Lenovo Legion 5i Gen 7 Laptops on Lenovo Official Site
Design and ergonomics: class and charm
The Lenovo Legion 5i doesn't have the usual look of big, powerful computers, and that's what makes it great. Instead of going for the extreme LEDs and very sharp lines of its friends, it chooses to go with the other members of its manufacturer's line. So we find above all a "desktop-ready" design, with the Legion logo oriented in portrait format, giving the device a small graphic wink reminiscent of a book.
Make no mistake, though: we're on a gaming laptop. This means that the baby is his weight and is quite massive. It's more portable than other solutions thanks to its 15.6-inch format and 2.4kg weight on the scale, but it's not an ultrabook either.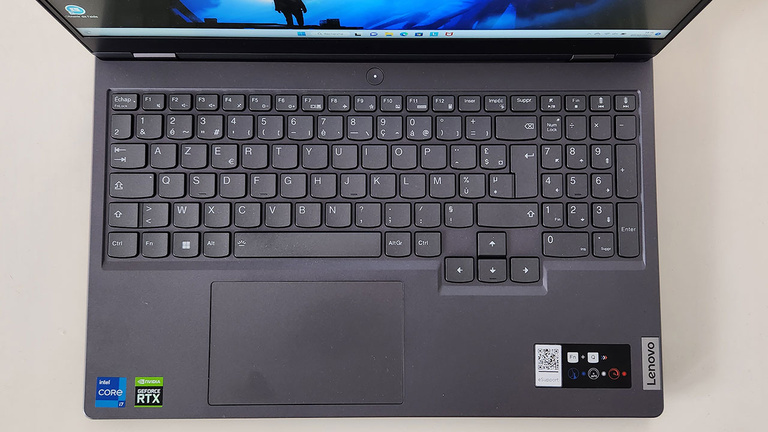 The light gray metal frame gives it a classy and sober look that will keep it swear-free no matter what environment it's used in. So, if you're looking for a laptop that won't disappoint you to put in the center of your home, the Lenovo Legion 5i looks like a great choice. Its connectivity is also extremely well-equipped, and its placement mostly on the back of the device emphasizes how much it's designed to be more sedentary than nomadic.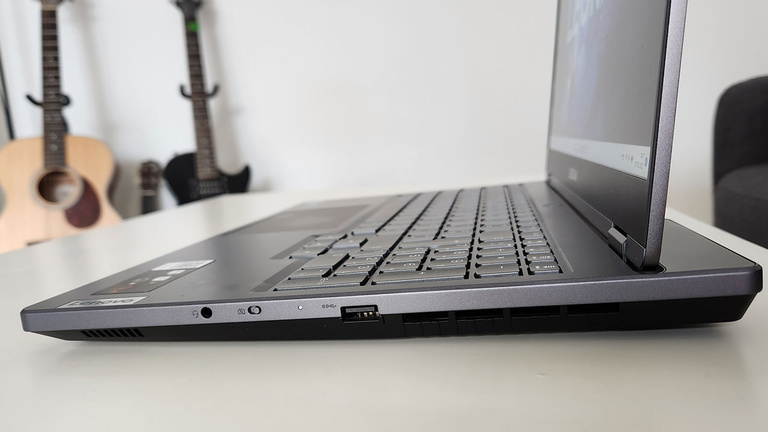 The Legion 5i is more sympathetic because its keyboard is a real pleasure to use. The buttons have pretty good travel for their format, with real bounce and click resistance giving confidence in their durability and accuracy. The same goes for the numeric keypad, which is quite limited in space it can take up, but very simple to use. Even the touchpad finally has a good diagonal, while this element is often the element that sacrifices the most. It doesn't have a glass cover though, which is a shame.
Display: what you need where you need it
In our test version, the Lenovo Legion 5i has a 15.6-inch IPS LCD panel that supports a maximum Quad HD resolution of 2560 x 1440 pixels for a traditional 16:9 aspect ratio. This panel supports a maximum refresh rate of 165 Hz, is anti-reflective, and is non-touch capable.
Under our probe, we observe a maximum brightness of 357 cd / m² rather than the 300 cd / m² promised by the manufacturer, which is already a positive point. In addition, the panel again covers 101.1% of the sRGB area, as promised by the manufacturer. Unfortunately, DCI P3 is only 71.6% covered, which is becoming more and more important these days.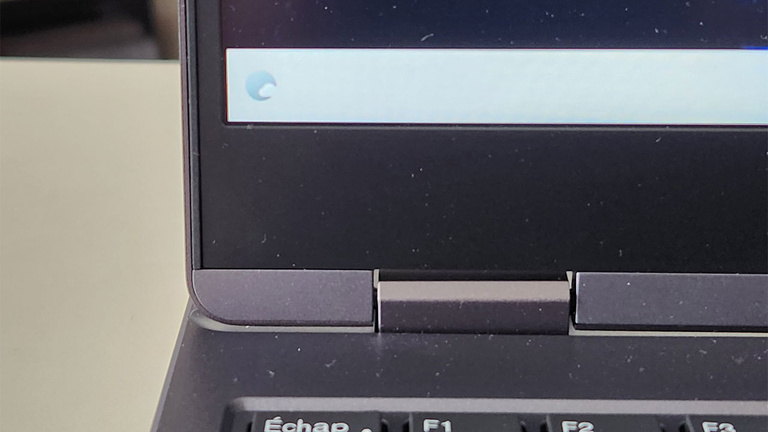 It also has a good contrast ratio at 1228:1 for an average color temperature of 7085K. The latter is a little cooler, like smartphone screens these days, to bring out the colors as much as possible without distorting the image too much. Average Delta E00 is thus measured at 3.1, which is honest. For a PC gamer screen, this is all obviously fine. We have the right trade-offs between power and image quality in use without too much disappointment. However, better DCI P3 support would be appreciated in 2022.
Software: everything for a boost
Lenovo isn't outdone by integrating the worst adware you can have, McAfee, right from the start. Fortunately, it's easy to remove as long as you're not fooled by its confusing navigation element placement and colors. What a terrible program.
Otherwise, the software suite provided by Lenovo on this Legion 5i is far from bad. Lenovo Vantage allows you to quickly find important system updates, as well as optimize the performance of the machine. It even offers a simplified overclocking utility that allows anyone to control their GPU very precisely. This is a significant advantage for advanced users, as neophytes can now simply play with the heat mode. Other software like Lenovo's Arena or Hotkeys are generally harmless and can be used.
Performance: overall control
The Lenovo Legion 5i is one of the vast majority of gaming PCs of the year, receiving a pair of Intel Core i7-12700H and an Nvidia GeForce RTX 3060 graphics card with 16 GB of DDR5 RAM at 4800 Mhz. And there are no surprises: Lenovo Legion 5i offers exactly the performance expected from this configuration.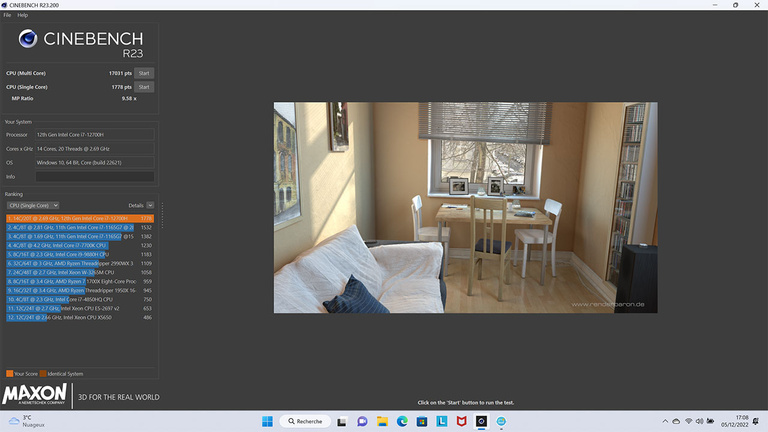 In particular, we find 17031 points in multi-core and 1778 points in single-core in Cinebench R23, which only proves that the 12th generation Intel Core i7 is well respected here. The same applies to the performance of the RTX 3060, which in native definition offers us an average of 41 FPS in Cyberpunk 2077 in Ultra Ray tracing mode using DLSS or in Shadow of the Tomb Raider. 81 FPS in Very High graphics mode with DLSS in quality mode.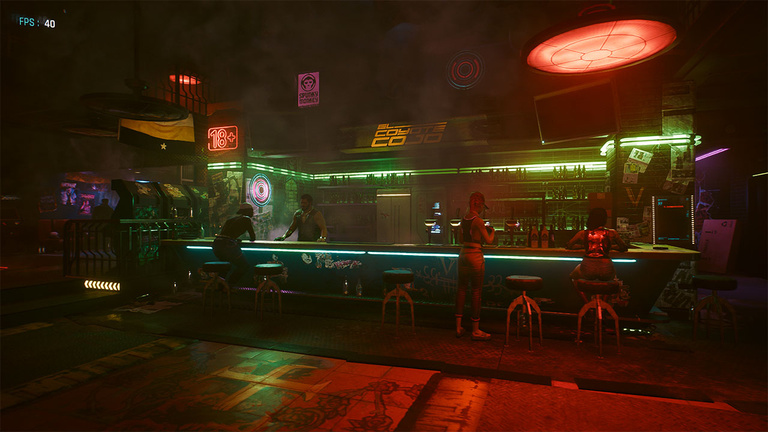 The real strength of this Lenovo Legion 5i Gen 7 is that it offers this performance without the usual sacrifices of gamer configurations. Here we have a computer that makes very little noise and perfectly manages its temperatures even in the middle of a heavy synthetic test in 3D. We understand better why the manufacturer allows overclocking so easily: this cooling system has a lot to offer.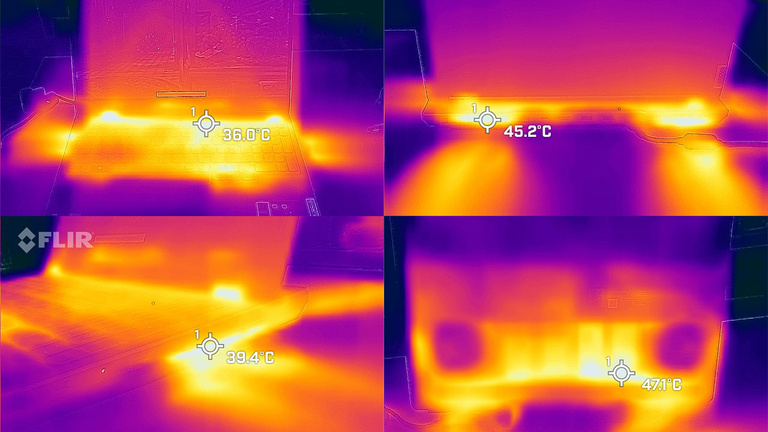 Autonomy: the usual sacrifice
Such a configuration cannot have excellent autonomy, this is a fact. It doesn't even have a right to a regular outlet here, because its 300W power supply has to use a rectangular connector. The computer is compatible with Power Delivery, so it can be charged through the USB-C port, but it will not deliver its full power.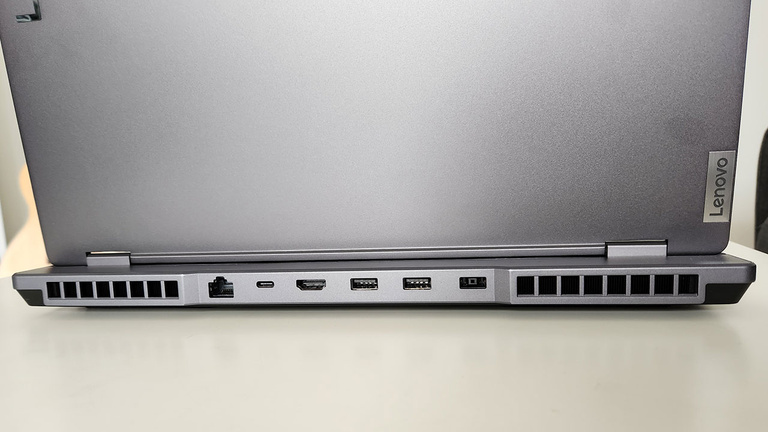 Here we have an 80WHr battery that allows us to use between 4 and 5 hours in classic office mode or watch a YouTube video. This is more or less what we expect from this kind of configuration, which is "portable" but not really "nomadic". So we are pleased without being too enthusiastic.
Discover Lenovo Legion 5i Gen 7 Laptops on Lenovo Official Site
The result

Strong points
The heat is perfectly controlled
Ultra comfortable keyboard
The performance you want
good gaming monitor
Weak points
No DCI P3 coverage
There is no glass for the touchpad
This year Lenovo Legion 5i is really interesting offers. With Legion 5i Gen 7 to be precise, it's really hard to point the finger at anything bad. Yes, for example, the screen can cover a wider color gamut. But in reality? If asked which gaming PC to buy in 2022 to cover all needs, this would be my top recommendation.
This page contains links to some of the products BM has selected for you. Each purchase you make by clicking on one of these links will not cost you, but eCommerce will pay us a commission. The prices shown in the article are the prices offered by the trading sites at the time of publication of the article and these prices are subject to change at the sole discretion of the trading site without notice to BM.
More details.