"Use us! ": At COP27, as everywhere else in the world, art and ecology come together, where activist movements or artist performances in major museums multiply to raise awareness of climate emergencies.
Lebanese-Egyptian artist Bahia Chehab wanted to plunge COP27 participants in Egypt into "hell" in a model of recent punch operations by activists using mashed potatoes, glue or tomato sauce on master canvases to warn the public. Global Warming.
For his installation Heaven and Hell in the Anthropocene, he wanted to steal the thermal control of the huge UN-run negotiating complex in Sharm el-Sheikh to raise the temperature during officials' meetings.
Because, he says, a recent study found that "people in warmer places believe more in climate change."
But due to strict security measures, this Cairo resident, who studied at the American University of Beirut (AUB), relied on another concept, "heaven and hell": a room heated to 45°C, symbolizing damnation, and another air… conditioned, representing Eden. does.
"Artists can enrich the discussion, they are the bridge," he pleads.
View of the installation "Heaven and Hell in the Anthropocene" from Bahia Chehab to Sharm el-Sheikh. photo Mohammad Abed/AFP
Sound board
Marguerite Courtel, an expert on the cultural sector's environmental transition, says artists can help humanity adapt to climate change.
"Artists have a message about imaginations and stories to accompany the transition," he says.
Chehab seems to have already converted at least one person. "The young girl came out of 'hell' saying 'I will never litter again,'" he says.
"To me, aesthetics are less important than the questions," continues one work.
Environmental activists in Vienna on Tuesday doused Austrian Gustav Klimt's famous "Death and Life" painting with a black liquid in a shocking new act.
In recent weeks, other activists have glued their hands to a Goya painting in Madrid or Andy Warhol's famous Campbell Soup silkscreen on display in Australia, poured tomato soup on Van Gogh's sunflowers in London and smeared mashed potatoes on a Claude Monet masterpiece. Potsdam, near Berlin.
While the paintings were undamaged, the Sunflower incident caused minor damage to the canvas frame.
"It's interesting because it shows that the museum is a sounding board for contemporary issues," analyzes Ms. Kurtel.
"Those who rebel against these actions should rebel against big groups like Total who continue to pollute," he said.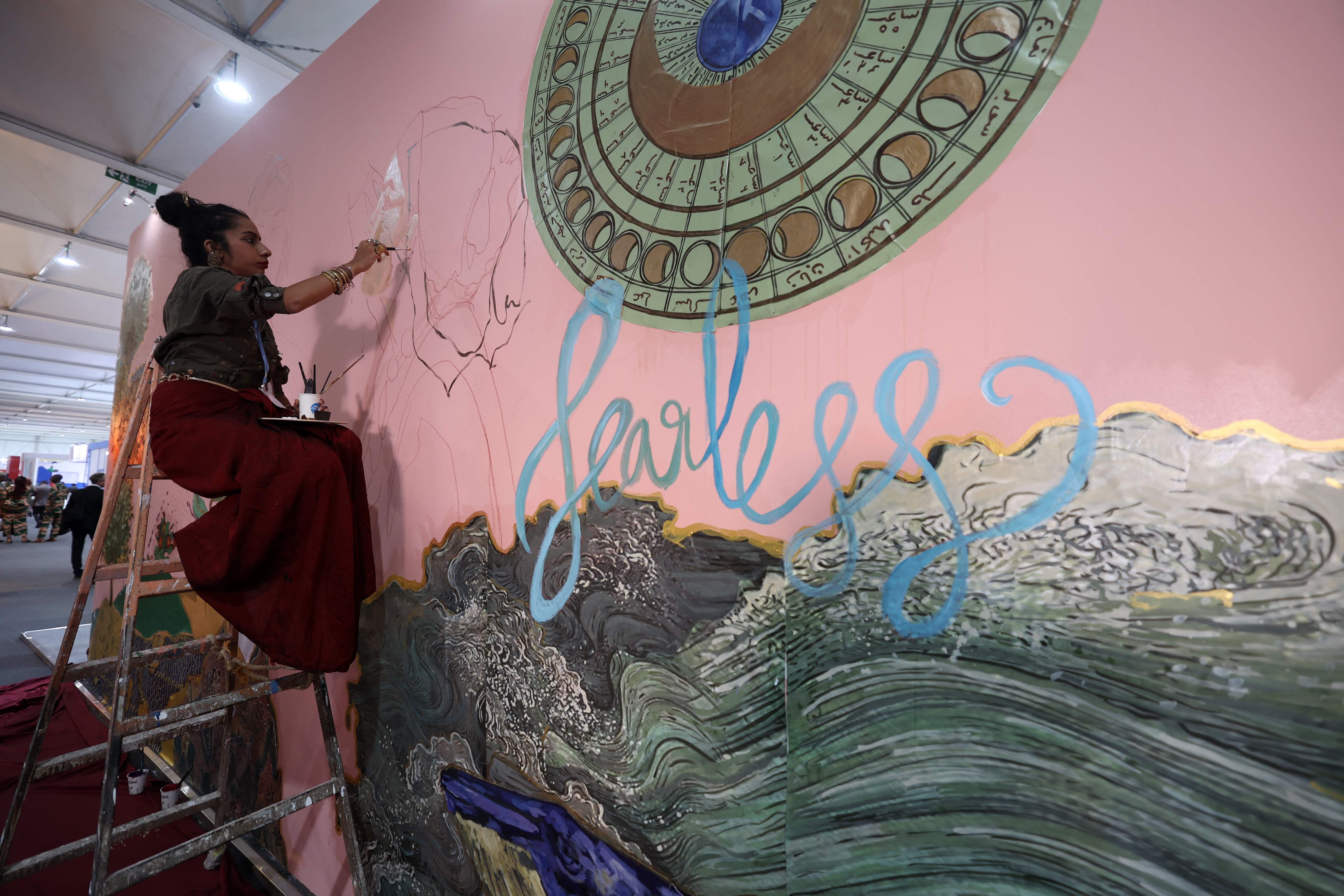 Artist Shilo Shiv Suleman puts the finishing touches on his "Fearless" mural at the youth pavilion outside COP27. Fayez Nureldine/AFP
Eco-responsible jobs
If climate activists have invited themselves to museums, art is inviting itself to COP27.
Indian Shiloh Shiv Suleman covered the entire wall of the complex in Sharm el-Sheikh with colors and sent a message to "world leaders who treat the planet as a product".
With the Fearless Collective, he painted a large mural representing the jungle and animals that "we must return to the source: to the mountains and stars and rivers and a way of life in harmony with nature."
Egyptian Rehab al-Sadeq, he pitched a tent at COP27 in the middle of the Sinai desert, just like the Bedouins of Sharm el-Sheikh.
Surrounded by environmental messages collected from locals in English, Spanish and Arabic, this "universal construction connects local people and visitors from all over the world," he explains.
Because, Ms. Kurtel adds, art should not only warn. He, too, must adopt short-circuiting and other techniques to avoid accelerating climate change.
Museums have already moved away from their once major patrons, the hydrocarbon companies.
But "one of the emerging questions is the environmental responsibility of the works, are they ecological production?" adds Ms. Kurtel, citing an unfortunately famous example.
At the COP21 exhibition in 2015, artist Olafur Eliasson created a giant "clock" symbolizing the urgency of fighting global warming.
The problem? Its dim carbon footprint, as every hour was represented by twelve huge blocks of ice transported from Greenland to Paris in a refrigerated container, by boat and then by truck.
Sofiane ALSAAR/AFP
"Use us! ": At COP27, as everywhere else in the world, art and ecology come together, where activist movements or artist performances in major museums multiply to raise awareness of climate emergencies. In a model of punch operations recently carried out on a master canvas with mashed potatoes, glue or tomato sauce…