The Samsung Galaxy Tab S7 FE is a Black Friday deal on the touch tablet side
The Samsung Galaxy Tab S7 FE tablet stands out for its excellent value for money, suitable for tighter budgets. This reference becomes even more interesting during this Black Friday, because the price varies from 599 euros to 399 euros at Carrefour, Darty and Fnac.
Launched last year, the Samsung Galaxy Tab S7 FE is no longer very young, but it is still outdated: less premium than the S7 and S7+ versions of the same range, this tablet today still offers satisfactory performance for a certain price, thanks to some concessions on the spec sheet. Just this Black Friday, it will be of more interest as its price benefits from a €200 promotion.
Highlights of the Samsung Galaxy Tab S7 FE
Large 12.4-inch display compatible with S Pen (supplied)
Powerful Snapdragon 750G chip
Good autonomy
The Samsung Galaxy Tab S7 FE (4 + 64 GB), which was originally launched for €599, is now available at Carrefour, Darty and Fnac for €399.
---
If the offer mentioned in this article is no longer available, take a look below to find other offers on the Samsung Galaxy Tab S7 FE. The table is updated automatically.
Where to buy

Samsung Galaxy Tab S7 FE at the best price?
A design that copies the design of premium tablets
While the Samsung Galaxy Tab S7 FE may adopt a more modest design than the same brand's very high-end S7+, the tablet still has the slick finishes seen on other versions of the series. It even stands out for its slimness thanks to its lightweight design (weighing only 608 grams) and 6.3 mm thickness. Its 12.4-inch diagonal is quite comfortable, and its LCD screen (2,560 x 1,600 pixels) updated at 60 Hz has a nice brightness that can go up to 600 nits. It's not OLED, but the compromises are pretty easy to accept. In addition, the back of this Galaxy Tab S7 FE still has a magnet system dedicated to the S Pen stylus that comes with the tablet.
If the tablet is not intended to be used as a camera all the time, it still includes an 8-megapixel rear photo sensor for quality video calls, as well as a 5-megapixel front sensor. A built-in microphone is also available and will provide good reception power.
Solid technical sheet
On the power side, the Samsung Galaxy Tab S7 FE has a Snapdragon 750G, which is supported by 4GB of RAM. The chip naturally doesn't claim to offer the same power as the more premium models, the Snapdragon 865+, but it will still deliver good performance in gaming and multitasking, as well as noticeable fluidity. Everything is completed with 64 GB of memory.
For watching videos or listening to music, you can count on two Dolby Atmos-certified AKG speakers with more than decent quality. Another main advantage of this tablet: its very good autonomy is allowed by its 10,090 mAh battery, which can last the tablet for a day and a half based on video, games and Internet browsing in classic use.
To find out more, do not hesitate to read our full test of the Samsung Galaxy Tab S7 FE in the 5G version.
7 /10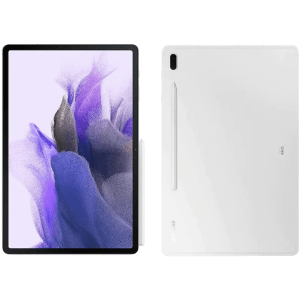 Black Friday 2022: don't miss the best deals!
Black Friday hasn't officially started since the event's start date is set for Friday, November 25, but most e-commerce stores have started sharing their best deals under the Black Week tag a week before Black Friday. Here are the Black Friday deals already available in French e-shops.
You can also find our selections by topic:
In order not to miss any great discounts at this event, you can use a few reflexes so that you do not miss any of the promotions that we recommend:
Follow us on our twitter account @FrandroidPromos dedicated only to good deals (don't forget to activate the call to receive real-time notifications)
Download our Frandroid app (available on iOS and Android) to enable notifications from the "Good Deals" category and thus receive new Black Friday articles in real time.
Subscribe to our Good Deals newsletter (multiple emails per day, 1-click unsubscribe, distribution to third parties) to make sure you get the deals firsthand:
---
We invite you to download our Android and iOS apps to follow us. You can read our articles, files and watch our latest YouTube videos.