Do I buy or not? Samsung Galaxy Watch Pro 5, a premium watch for athletes
With its many features dedicated to sports and health, its AMOLED screen and its robustness, the Galaxy Watch 5 Pro stands out as one of the best references on the market.
Samsung has updated its range of connected watches for the summer of 2022. With the Galaxy Watch 5 Pro, the South Korean manufacturer enters the sports-oriented segment. This model provides complete health monitoring thanks to many features and more advanced capabilities compared to its classic version, the Galaxy Watch 5. The 5 Pro version also addresses one of the main complaints against this model. Galaxy Watch 4: its autonomy.
Its advantages
Excellent finish and durable design
Designed for those who love sports and advanced features, the Galaxy Watch 5 Pro has a sober and elegant design. The watch is particularly durable. Its titanium case, water resistance up to 50 meters and glass with sapphire crystals protecting the screen provide optimal protection against drops and scratches.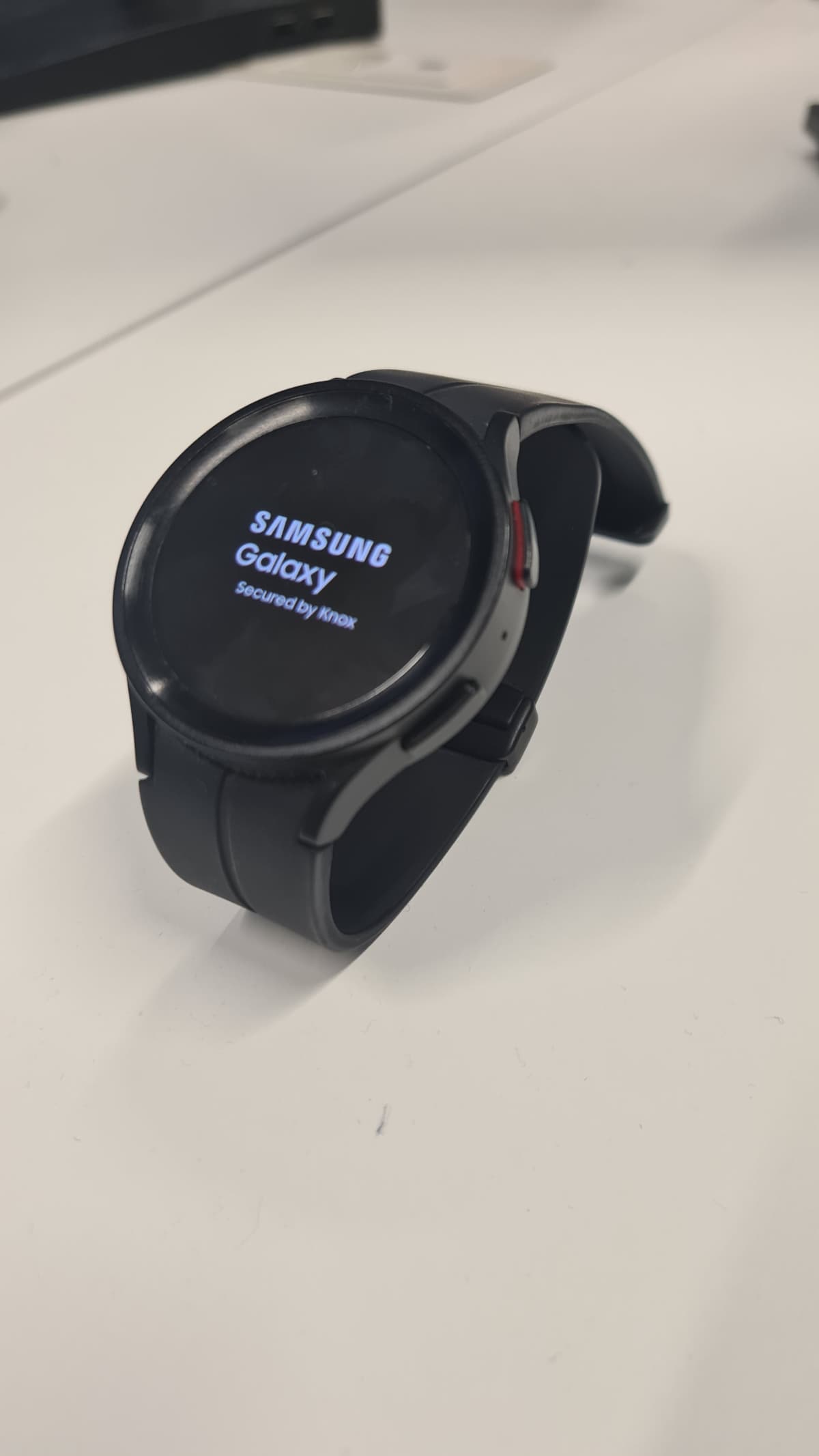 The 1.5-inch Super AMOLED display provides excellent image quality day or night. Its brightness is sufficient and it shows vivid colors. The screen also benefits from an "always on" mode and a fairly effective light sensor.
Simple and intuitive navigation
Galaxy Watch 5 Pro is equipped with Wear OS 3.5 operating system and One UI Watch GUI version 4.5. Bottom line: Navigation between settings and apps is seamless, and the touchscreen is responsive. Sliding your finger clockwise around the dial also lets you move from one menu to another more quickly.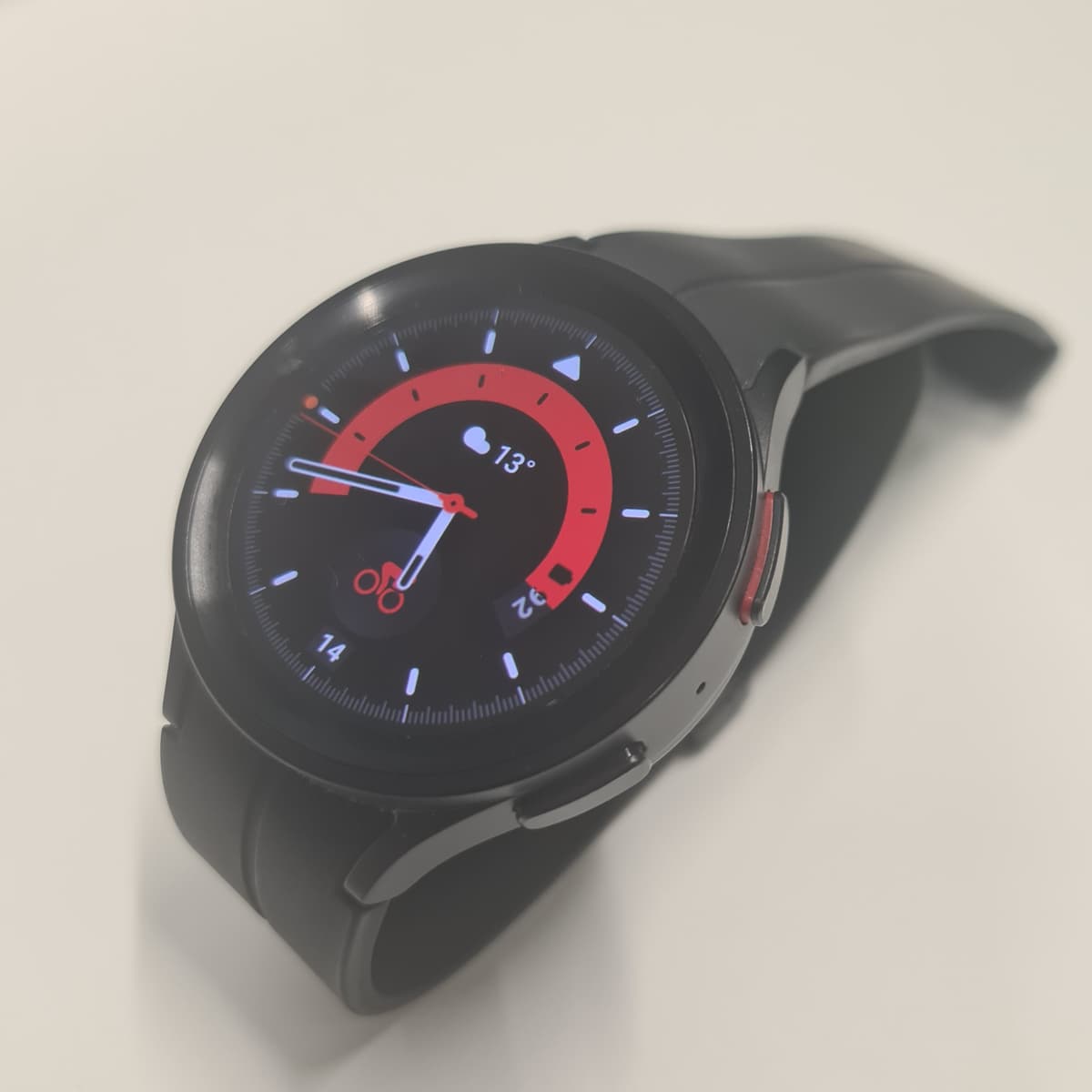 The Samsung tocante is also adorned with two physical buttons on the right side: one that serves as the Home button and the other for the back button. The latter can be configured to launch multitasking and view a list of recently opened programs. The interface is also highly customizable, with plenty of collections available for download on the Galaxy Store and Play Store.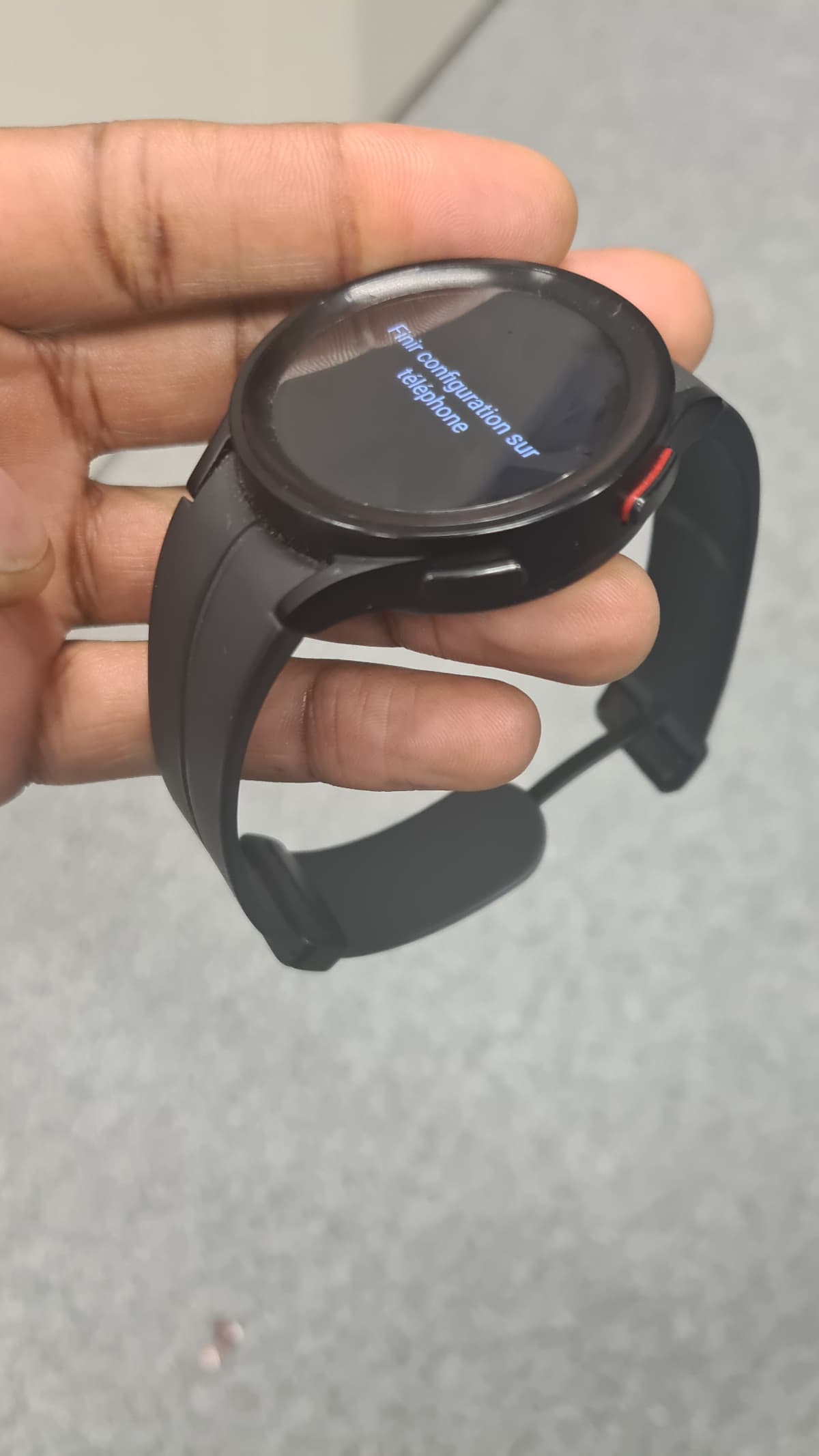 Unfortunately, the Galaxy Wearable app, which is not available on iOS, is required to use the watch. It is used to receive updates, customize the dial, or receive notifications on the Galaxy Watch 5 Pro.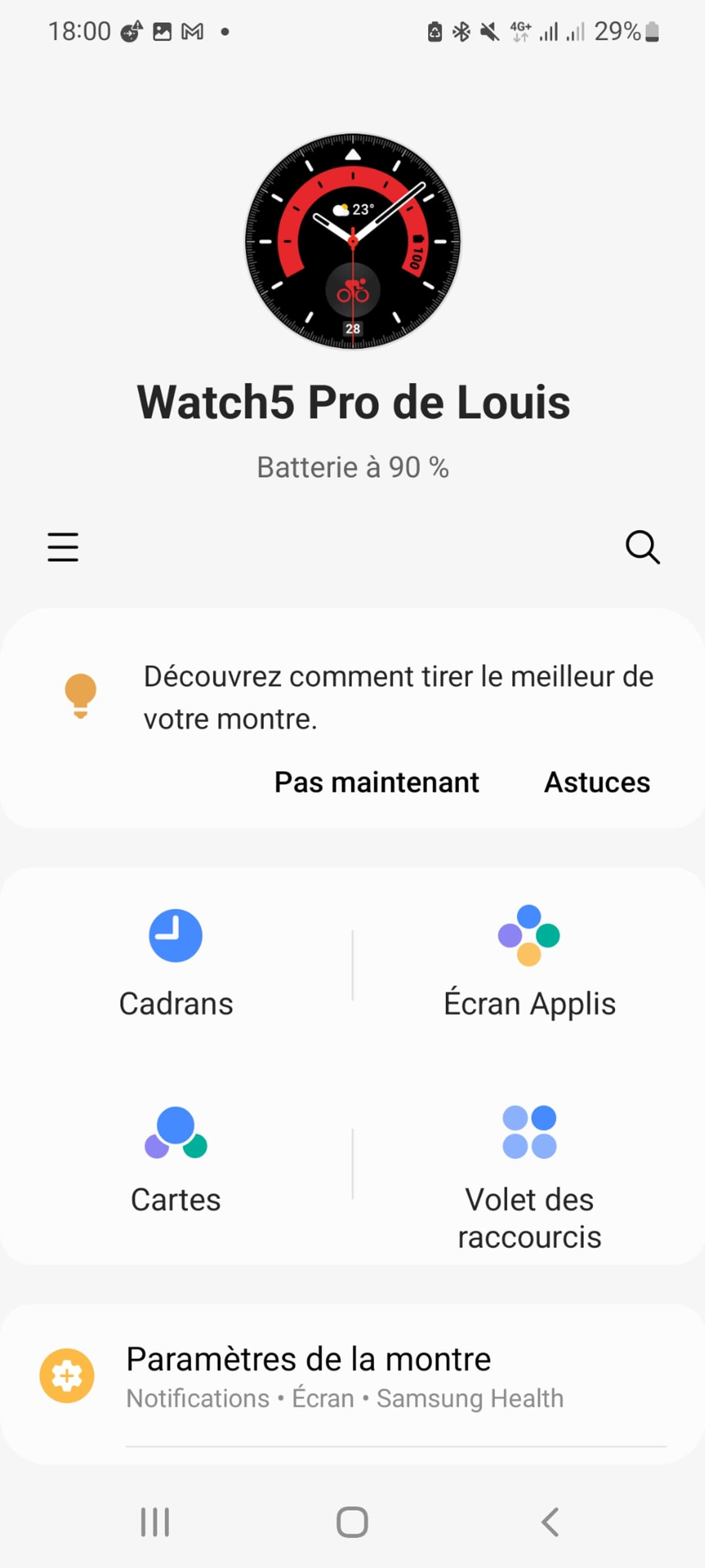 Many features dedicated to health and sports
Samsung's connected watch comes with multiple sensors dedicated to health monitoring: monitoring heart rate, blood pressure, and even body composition. A fairly comprehensive sleep tracking app is also available. The sensors also have the ability to measure the number of steps or take an electrocardiogram.
When it comes to sports monitoring, nearly a hundred activities allow you to train, from running to skiing. Access to the Play Store is a huge advantage for downloading new apps. The Galaxy Watch 5 Pro also offers some exclusive features such as route tracking and the ability to import GPX files.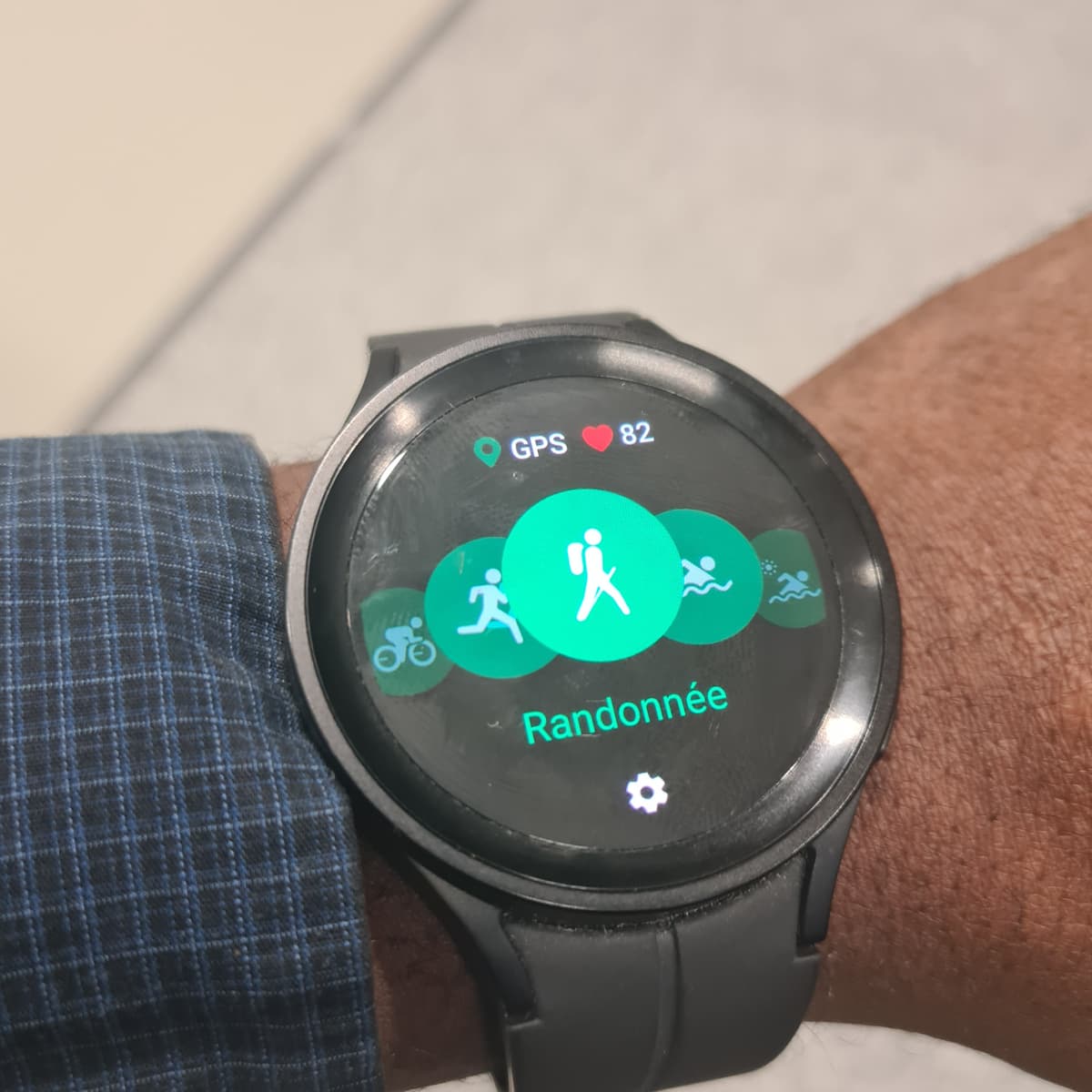 Significantly improved autonomy
This was one of the main drawbacks of the Galaxy Watch 4. The 2022 version has a 590 mAh battery and, in fact, the autonomy has been improved: two days of intensive use (receiving notifications, calls, sports sessions, etc.), three days with certain functions turned off: always-on screen, WiFi, various detectors, etc.
Our reserves
ECG and blood pressure monitor functions are designed for Samsung smartphones
Samsung smartphone owners will be able to get the most out of this connected watch without any problems. But owners of Android smartphones of other brands will be deprived of certain functions, such as electrocardiogram or blood pressure measurement. In turn, iOS or HarmonyOS users simply cannot communicate with the watch.
Perfect bracelet
The black silicone strap that comes with the case isn't very comfortable. Although it holds the watch securely on the wrist, the clasp is not easy to adjust. However, it is possible to purchase another bracelet from a third-party merchant. Overall, the watch is also quite thick and a bit heavy.
The Samsung Galaxy Watch 5 Pro offers great performance, new features for outdoor athletes (route tracking) and a fairly competitive price for high-end positioning. While this Pro version also offers more proper autonomy than the classic model, a few shortcomings, such as somewhat approximate GPS tracking and the lack of iOS and HarmonyOS compatibility, spoil the picture a bit. Although it's priced at €469, it remains the ideal connected watch for Samsung smartphone users.