Surprise: French iPhone 14s will be able to connect to satellites from December
Apple announces that the "Emergency SOS via Satellite" function, which allows you to send an emergency message without a network, will come to France in December. So far, the brand has not announced the compatibility of French iPhones with this service.
Has there been a change in strategy at Apple? Since the iPhone 14 was announced in September, the Californian brand has not contacted the satellite emergency messaging system in France once. Every time the American site highlighted a feature, the French version replaced it with something else. Everything indicated that this service would not reach France (if ever), one of the only innovations of the iPhone 14 compared to the iPhone 13.
In a press release sent out on November 15, Apple announces that the "Emergency SOS via Satellite" feature is immediately available in the US and Canada, as promised in September. To everyone's surprise, the brand also announced in December that the feature would be rolled out in France, Ireland, the UK and Germany. Apple's French website has been updated following this press release. He talks about the satellite connection now, as if it's always been there.
Why didn't you communicate sooner?
Was Apple planning to release satellite messages to Europe so soon? It doesn't make sense to only announce a feature in the US and Canada (with a 3 month wait) but not talk about it at all in France (there was only a 4 month wait). This is all the more damaging because this lack of communication is certainly hurting Apple. Several iPhone 14 testers (including Numerama) and stores warned that the feature was not available in France and recommended the iPhone 13 to consumers due to the lack of new features. Apple had absolutely no interest in pretending this feature wasn't available in Europe, especially with such low expectations.
Usually, when Apple hides a feature in certain countries, it's not clear when it will arrive one day. The iPhone Upgrade Program, Apple Card and Apple Pay Cash are proof of this: France has never seen them. There's also Apple Fitness+, which was first reserved for English-speaking countries (and hidden in France) before being rolled out internationally.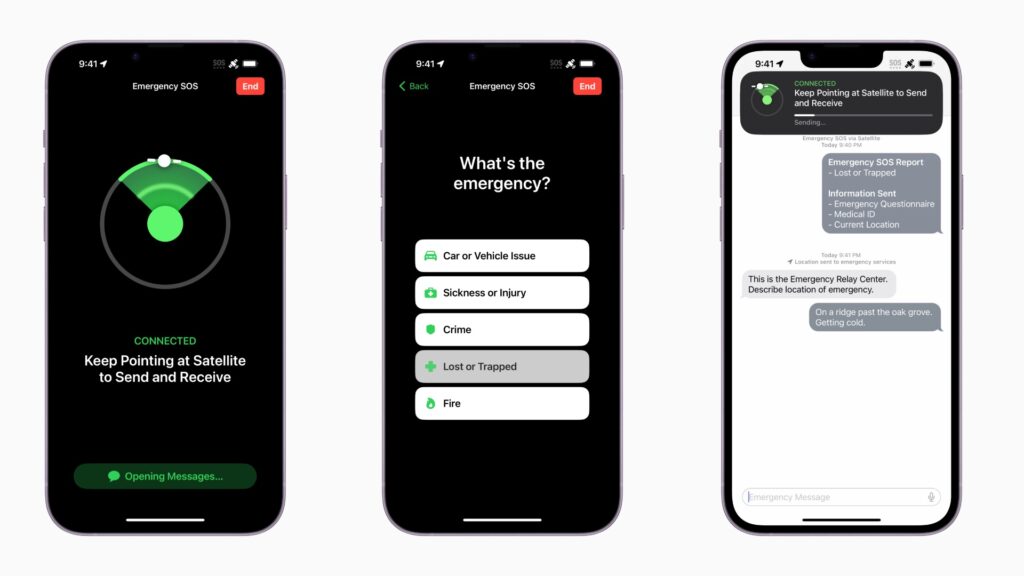 Why did you finally announce this feature in Europe? Several ways are possible. It could be a matter of legality (but Apple could put the feature on its website without promising a date), a matter of capacity (Apple may not have had a partner for Europe before, but the schedule is odd), or a marketing decision. Of course, we do not expect any comments from Apple on the subject. The brand is used to planning things in advance and will likely explain this choice, as well as the reasons for the lack of communication about the feature in recent months in France.
What is Emergency SOS via satellite used for?
Free for 2 years (Apple will likely continue with its economic model by expanding features after that), "Emergency SOS via Satellite" allows the iPhone 14 and iPhone 14 Pro to connect to low-orbit satellites in an emergency. , without mobile network and Wi-Fi.
After a quick pairing phase (the iPhone will tell its owner how to position it in front of the satellite), the user will have to fill out a form to explain their situation. Is he injured? Did you lose? Only? The iPhone will then send a satellite message to an Apple-owned server that will process it. If your area's emergency services don't handle these special messages, Apple has staffed agents who will make emergency calls on your behalf to send your contact information.
Emergency SOS via satellite also lets you send your location to a loved one when you're out of network, such as while hiking on a mountaintop. The feature doesn't allow you to call yourself or write a private message, at least when enabled. In addition to Emergency SOS via satellite, the iPhone 14s can detect car accidents thanks to new pressure sensors.