Awesome Lens continues its awesome streak! – Player briefs and NOTES (Lens 2-1 Clermont) – Soccer
In-form RC Lens continued their good run with a fifth straight win (2-1) against Clermont this Saturday, matchday 15 of Ligue 1. After the break, Sang et Or overthrew Clermont in the second period.
Fofana wins for Lens (2-1, 68th)
5 out of 5 received! At home, RC Lens won their fifth consecutive victory over Clermont (2-1) this Saturday, on the occasion of the 15th day of Ligue 1. Dominating but leading until the hour mark, Lensois overcame his opponent to temporarily claw back two points. From the leader of the championship, Paris Saint-Germain.
Lens starts strong
Coming into the game well, Lensois quickly set the tone. In Frankowski's pass, Sad offered himself a scoring opportunity after only 24 seconds! A situation that was repeatedly observed in the first period. Because Frankowski made too many dangerous passes, but also because Sad liked all the balls in the Clermont area to get several scoring opportunities. But it wasn't enough for Sang et Or, who were very imprecise in their final gesture during the first 45 minutes.
Abdul Samadin CCS
The Auvergnats were more successful. With Abdul Samad's own goal, Pascal Gastier's students took the lead until the break (0:1, 39th)! A goal that is not really justified for the CF63. Clermontois responded to the physical challenge offered by Lensois in the first half and already had several scoring chances, as Wieteska's header and then Kyei's effort were blocked by Samba.
Clermont cracks on eight minutes
Returning from the dressing room, Lensois stepped on the gas pedal. Ports by Bollaert, Franck Haise's players found the mistake on the penalty level shot by Saad on the hour mark (1-1, 60th). RCL then forced Clermont to break. He succeeded eight minutes later with a wonderful goal from Fofana (2-1, 68th)! A crushing blow for Clermontois, who then narrowly held off Samba to deny Lens their eighth win in eight home games this season. Bollaert remains impregnable!
Match Score: 7/10
A very enjoyable match in a great Bollaert atmosphere. The first period was lively and Clermont's goal allowed a very good second move, during which Lensois forced the match back.
Objectives:
– In the corner of Khaoui, Kyei throws himself to bend a little with his head. The ball falls on Abdul Samad, who cheated the goalkeeper (0-1, 39).
– Sotoca, launched from the right by Frankowski, addresses the lower center. Medina misses Madjerini at the near post, but Sad follows up well to score from the right on the penalty spot (1-1, 60).
– Touch with Sotoca, Frankowski retreated towards Gradit. The defender sends the ball to the penalty spot, where Fofana eliminates Wieteska on his left control before scoring from the right (2-1, 68).
PLAYERS NOTES
Maxifoot assigned a score (out of 10) to each player.
Man of the Match: Seko Fofana (8/10)
What action! Always on the move to get off the mark and offer solutions to his partners, the Lensois captain was rewarded for his efforts by scoring the decisive goal in a superb sequence in the Clermont region. His recovery work and leg kick were also invaluable for Sang et Or. Match for the boss!
LENS :
Brice Samba (6.5): Made two impressive saves on Wieteska's header, then attempted Kyei's lob before the Lensois keeper finally had to duck a team-mate's miss in the first half. He was less required in the second half.
Jonathan Gradit (6.5): solid defense, did not hesitate to show himself to support the attacks of the defensive team. He was made to pay for the second Lensois goal as it was he who gave the ball to Fofana.
Kevin Danso (6): The Austrian international wasn't perfect at everything he did, but he did his team a world of good through his impact in the duel and his presence in the air.
Facundo Medina (5.5): Bursting with energy but sometimes a little messy in his tackles, the Argentine defender was not an imperial defender. However, it has left nothing out and still provides the correct copy. Like his near-post challenge on Lensoise's equaliser, he didn't hesitate to step into possession phases.
Przemyslaw Frankowski (7.5): less than a minute later he made a great cross to the head of Sad. The omnipresent Lensois right piston in his lane was a constant threat. It is proven by Lens's pass to Sotoca in the first goal and to Gradit in the second. Great game!
Seko Fofana (8): read comment above.
Salis Abdul Samad (6): the goal he scored against a side he could do nothing about will remain an anecdote. It would take a lot more to completely destroy its performance. Despite being wasted (lost 15 balls), he won most of his duels and offered some spawn to his attackers.
Deiver Machado (6): A fairly quiet match for the lefty. Untroubled in his own lane, he defended well and made interesting calls. Replace with the 90th Ismal Boura (no).
Florian Sotoca (7): his stables and races are fun for his partners. The Lensois striker was rewarded for his efforts by providing the decisive assist for Sad, then finding Frankowski to play a part in RCL's second goal. Replace with 89th Jean Onana (no).
Wesley Sad (7): The striker scored his second goal in two games for the third time in a row. And it is worthy in terms of its activity. Old Toulouse, who was not very successful in his attempts in the first period but not very successful, was more clinical to equalize the score after the break. Replace with 64 Los Openda (no).
David Costa (5): the least prominent Lensois attacking player. At first timid, then imprecise, he did not make much of a difference in attack. He still gets a chance with Wieteska in the box. Replace with 73 Alexis Claude-Maurice (no).
CLERMONT :
Mory Diaw (5): The keeper, saved by Lensois's failure in the first period, but also the author of the stop in front of Sad, could not prevent the rise of Lens after the break by leaning into the shots. Sad and Fofana.
Maximiliano Caufriez (5): placed on the right of the back three, he did not have an easy task in front of Sotoca and Frankowski. He should sleep well tonight…
Mateusz Wieteska (6): The defender, who came so close to opening the scoring in the first half when Samba's header was saved, then shone in his own area, saving a couple of hot balls, the image of his interception of Da Costa's shot.
Alidu Seidu (6): The defender spared no effort to stop several Lens attacks in the second half, such as his great tackle on Fofana who was advancing on goal.
Jrmy Bela (4): The right-hander is disappointing in his third straight start. We hardly saw Lance attack his side, though.
Johan Gastien (4): Physically dominating in midfield, the Clermont captain still tried to make a difference with long passes towards his forwards, with more or less success. Replace with 86 Maxime Gonalons (no).
Yohann Magnin (5): A decent enough match for the Clermont midfielder who responded to the physicality of Lensois and made a couple of crucial tackles to protect his defence. Replace with 87th Brandon Baiye (no).
Elbasan Rashani (5): The Kosovar international does not deserve the left piston role. Frankowski forced him to defend in his own lane, so he didn't have many opportunities to shine offensively. Replace with 67 Baila Diallo (no).
Saf-Eddine Khaoui (6): in the playmaking position, the ex-Marseillais stood out with several inspired passes to the forwards, the image of this long ball on the occasion of Kyei in the first period. At the back, it was his corner that brought in the Clermont goal. Replace with 75th Mohammad Cham (no).
Komnen Andric (4): The centre-forward tried to physically burden long balls and it was not easy. Overall, he was well controlled by the Lensoise defense as he didn't have a single shot on goal.
Grejohn Kyei (5.5): The striker, who started for the second time in a row, had a big duel with Danso. If Samba narrowly misses a backhand lob, Abdul Samadi has more success on the back of his push for an error in the opener. Replace with 67 Jim Allevinah (no).
+ Find Ligue 1 results and standings on Maxifoot
So who were the best and worst players of the match for you? Leave a comment in the "comments" box below!
LENS 2-1 CLERMONT F. (average time: 0-1) – FRANCE – Ligue 1 / Day 15
Stadium: Stade Bollaert-Delelis, Lens – Referee: Ben el Salem Hadj, France
Objectives : W. Sad (60th) S. Fofana (68th) for LENS – S. Abdul Samed (39th, csc) CLERMONT F .
Warnings : S. Abdul Samad (65th)For LENS- Q. Kyei (42nd), J. Gastien (45+1), K. Andric (85th)For CLERMONT F.
LENS : B. Samba – J. Gradit, K. Danso, F. Medina – P. Frankowski, S. Fofana, S. Abdul Samad, D. Machado (I. Boura, 90th) – V. Sad (L. Open, 64th) – F. Sotoca (J. Onana, 89th), David Costa (A. Claude Maurice, 74th)
CLERMONT F. : Mr. Diaw – A. Seidu, Mr. Wieteska, Mr. Kaufriez – J. Gastien (M. Gonalons, 86th), Y. Magnin (B. Baiye, 87th) – Jrmie Bela, E. Rashani (Baila Diallo, 67th) – S. Khaoui (Mohammed Cham, 75th) – K. Andric, G. Kyei (J. Allevinah, 68th)
Clermontois scored first (0-1, 39th)
Sad's joy after equalizing (1-1, 60th)
Medina was happy as if he scored a goal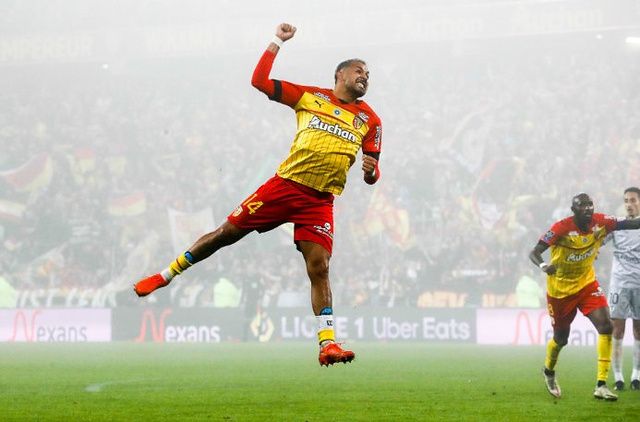 Lensois scored Fofana's winning goal (2-1, 68th)