Renault confirms tie-up with Google for future cars
Renault was among the first automakers to bet on Android Automotive, Google's operating system for cars. The French company has been offering it for about a year now in the Megane E-Tech, its first "next generation" car where computing is central to experience and design. This choice was not accidental, as confirmed by this new agreement signed between the Renault group and Google. This agreement strengthens and expands the partnership between the two companies and puts Google at the heart of Renault's future.
This collaboration is quite extensive, as it includes the "cloud" infrastructure used by the Renault group. With Google Cloud, the search giant is becoming the preferred cloud provider for the French company, which began its transition in 2018 and is now looking to accelerate it. One of Google's contributions in this area should be the processing of all the (future) data collected by Renault from its plants as well as from its vehicles, in particular in terms of artificial intelligence.
For the diamond manufacturer's customers, this partnership means that all future Renault vehicles must adopt Google solutions. We imagine that Android Automotive will be widespread in the new models, we also find it on the Megane's dashboard, the Austral, the new SUV. Google's operating system is free and open, which allows you to customize it to your liking and even create a version independent of American services. It should not be in Renault, where all Google services will work: Google Maps for planner and GPS, Google Assistant for voice commands or Play Store for installing third-party applications.
As Tesla has done for years, Renault is moving toward vehicles that are all-computer-on-wheels, or " Software defined vehicles (SDV) in slang. In addition to an interface projected onto screens placed in the cabin, this involves thinking of the car as a computer controlled by a set of chips and, above all, code that can be updated remotely. Android Automotive is happy to run the display, but Renault wants to go further by relying on Google's expertise.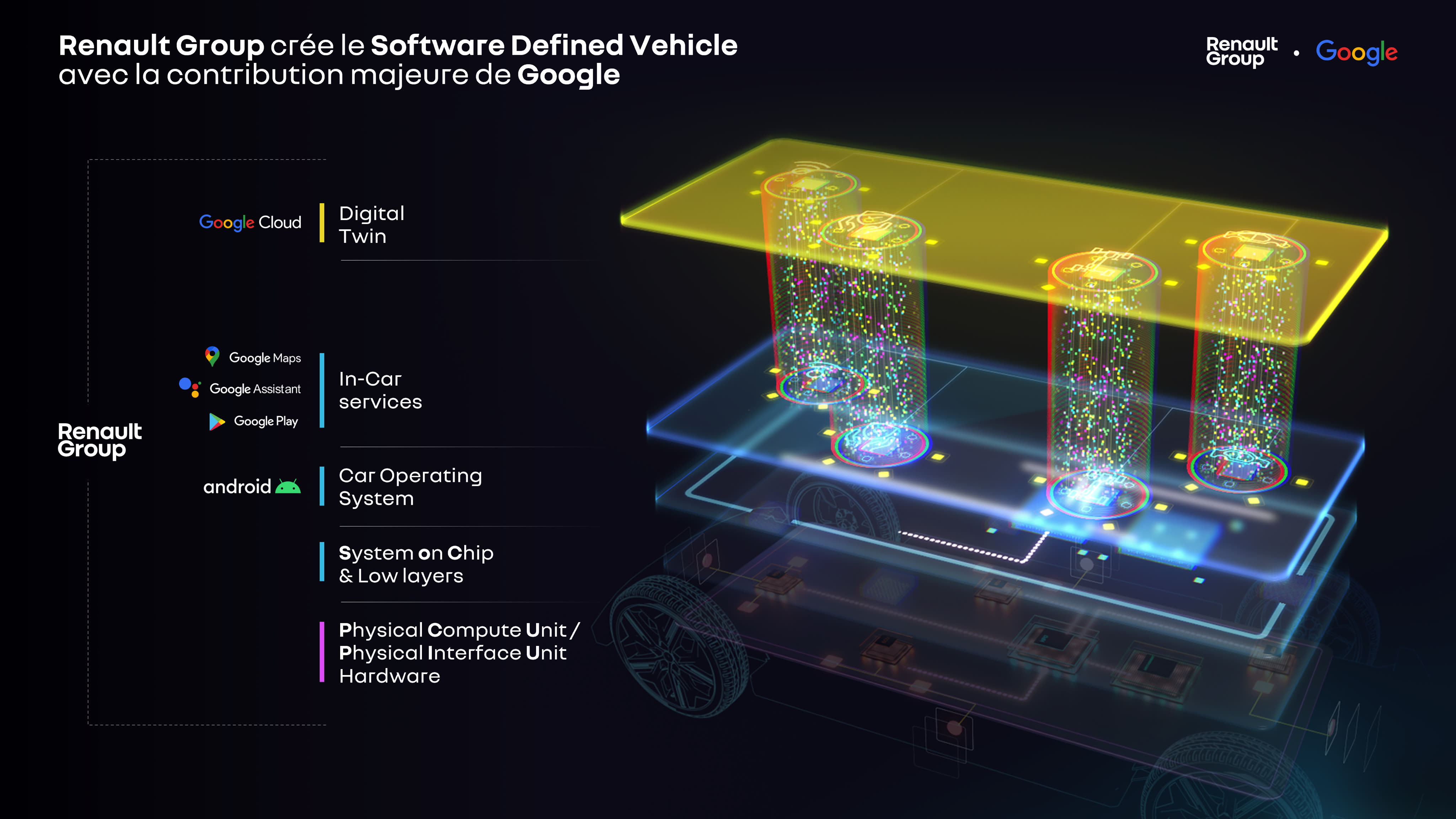 All software development for vehicles will be done especially thanks to "". Digital Twin ". This digital twin replicates the car's hardware on Google Cloud throughout its life to speed up the development part when the car is created and then for its updates. This goes beyond software, but Renault will also develop services that are directly reminiscent of what Tesla offers. "Predictive maintenance" will be able to detect faults in real time, and Renault is even considering using the data collected by the cars for insurance purposes, an idea mooted by its American rival a year ago.
On the supply side, Renault has signed a long-term deal with Qualcomm to buy the chips essential for these four-wheel computers. The two companies have already been working together since 2018, but are strengthening their partnership. Renault will notably use Qualcomm's Snapdragon Digital Chassis platform to drive the infotainment system, as well as driving assistance and vehicle connectivity.
The first SDVs of the Renault group should arrive from 2026. The company also announced the continuation of its modernization plan, notably the launch of Ampère, a new automaker that will offer all-electric and only computerized vehicles. The firm had already planned to spin off outside of continental Europe, keeping a separate subsidiary called Power, which would be dedicated to thermal and hybrid engines beyond 2030. In the future catalog of this manufacturer, six electric cars are planned, including the current Megane E-Tech, as well as the Renault 4 and Renault 5, as well as the three Scenic models that have been in development for several years.