Adding a 'fake gear lever' to an electric car: Toyota's crazy idea
Honda took on rival Toyota in a panel discussion on adding "fake manual transmissions" to electric cars. But more specifically, what are we talking about?
It may seem strange to introduce a very fast gearbox with a manual lever in an electric car. However, it is an element that several brands continue to work on. Toyota filed several patents for this purpose in early 2022. Dodge isn't far behind with its Charger Daytona SRT concept.
It was during a Car And Driver media roundtable that Honda CEO Toshihiro Mibe and head of electrification Shinji Aoyama expressed their doubts about the interest of this "fake or simulation".
Not really for nostalgia, but more for performance
Nostalgia for traditional cars is not the only reason behind the Toyota group's somewhat crazy idea to bring back the manual gearbox to electric cars. The absence of a manual gearbox and gears is considered a breakthrough for many electric car users.
As a rule, electric cars can do without gearboxes at all. Only 4 modes are still useful, controlled by a simple button or komodo:
"D" (for forward),
"R" (to return),
"N" (for neutral position)
"P" (for park position).
You can also add "B" mode as an accessory to enable additional regenerative braking. But it can go a little further.
Although electric cars can use a single gearbox, the instantaneous performance at low speeds eventually diminishes at higher speeds. In a daily car this is enough, but for a sports car we can do better.
Some electric cars even have two-speed electric transmissions. This is on the Porsche Taycan and Audi e-tron GT models. ZF is the equipment manufacturer that developed this solution, which allows to optimize performance and autonomy. First gear handles speeds below 70 km/h, while second gear takes over. In this example, it's perfectly transparent to the driver who doesn't have to physically change gears.
The patents issued by the Toyota group go further than the high-speed transmission. For Lexus' future sportsman, its president Koji Sato wants to link with a "false gear lever" and a "false clutch". Why the nickname? Because it's not really about replicating the mechanical effect of these two elements, it's about finding a software solution that can simulate the feel of a manual gearbox. The goal would be to make electric vehicles as attractive as sporty thermal models.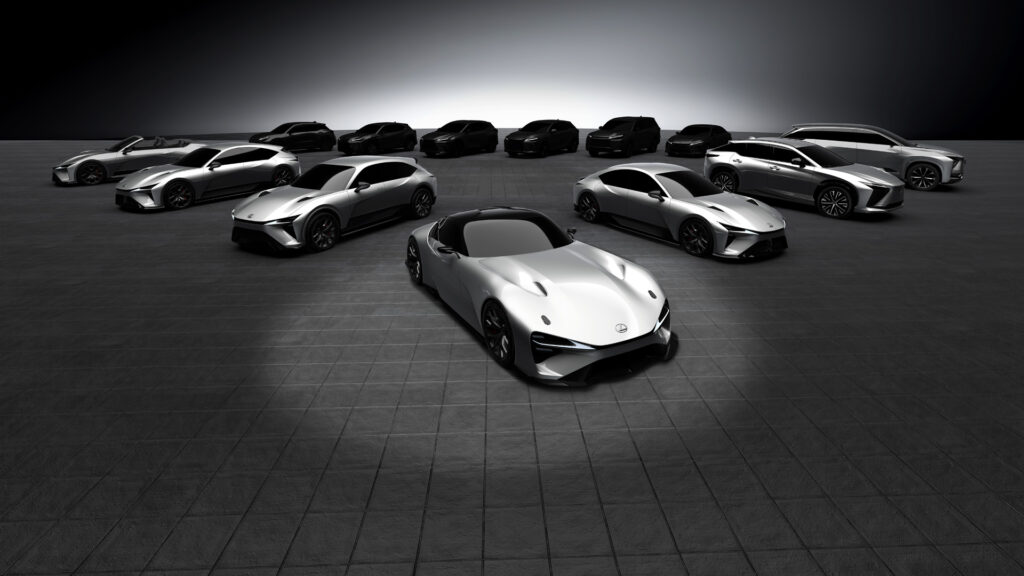 Honda is not happy with these artificial solutions
Needless to say, Honda and Toyota started the transition to electric cars in a hurry. In this regard, the two competitors are both mainly betting on the hybrid. They decide to spend the second to offer electric vehicles. So they want to try to bring something different.
For Toyota, it can switch to this (imitation) manual transmission, which will give more driving sensations, but Honda is looking for something else to continue to deliver enjoyable and fun electric cars.
Two Honda executives link this manual gearbox idea to another strange trend seen with certain innovations: incorrect engine (or exhaust) sounds. Apparently, it's more Dodge that appears to be the target of this record.
For Honda CEO Toshihiro Mibe, it's important that they have electric cars. nervous and that they stand out from their competitors in terms of driving experience, adding: " I'm not sure if we can replace a manual transmission. »
We are waiting for the two Japanese manufacturers to offer us new functional electric cars before trying to give us the feeling of driving a sports car of the past with complex technical and software solutions. There is currently only one 100% electric reference in the catalog of the two brands: Honda e on the one hand, Toyota BZ4X and Lexus UX300e on the other. We're still waiting for the Lexus RZ to finally reveal its hood, as it's already been delayed for several months. Currently, none of these models are popular with buyers, and it would probably be a good idea to start by fixing that.